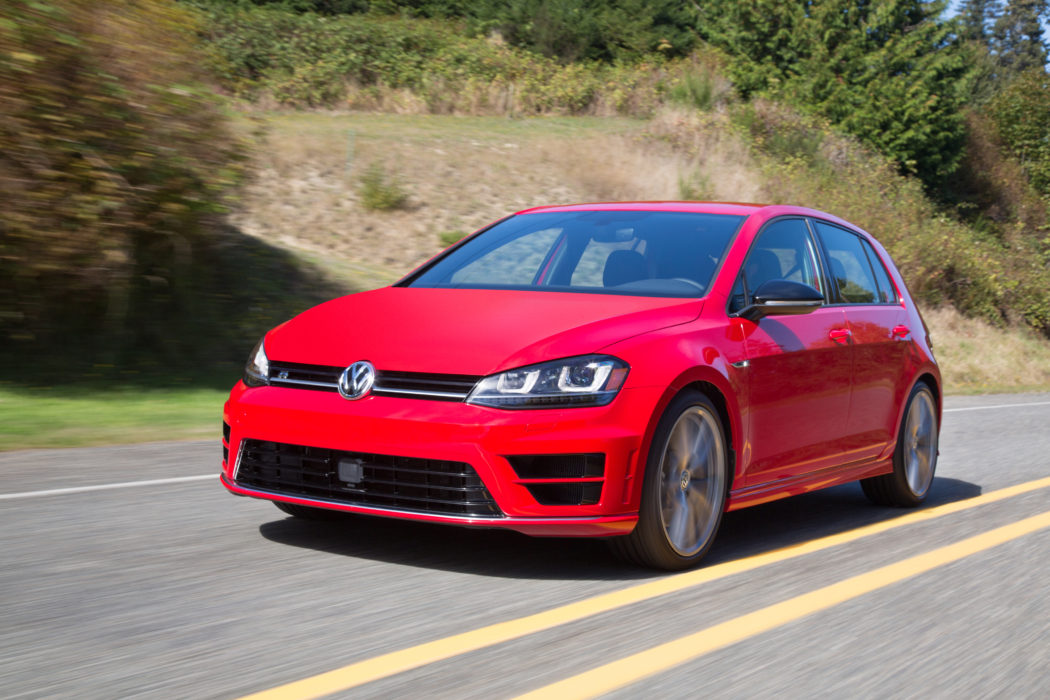 More of the Same Brilliance
It's been 2 years since we first tested the Golf R and we were eager to get back in the driver's seat. The wait was finally over, except for the driver almost turned back due to a small rock chip on the windshield. After a quick email we said it would be fine and they dropped off the Tornado Red 2017 Golf R. Thankfully it had a couple of thousand miles on it so no danger of us driving slowly this week.  Is it quicker 2 years on? …..more on that later.
Full credit to Volkswagen for not making this Uber-Golf over-the-top with Focus RS style bodywork and an interior fit for a teenager's bedroom, instead the Golf R is subtle, refined, the gentleman's hot hatch if you will, with only subtle clues to expose the beast beneath. A quick walk-around reveals bigger brakes with blue calipers, twin exhaust pipes on each side, "R" badges on the nose, tail and front fenders. The interior is nearly identical to that of the standard GTI except for some blue accenting on the door sills.
No changes to the engine for 2017, although with the GTI getting a power hike, I would expect VW to add more go to the next model R.  The Golf R has a turbocharged 2.0-liter four-cylinder engine which develops 296 horsepower and 280 pound-feet of torque. Transmissions come in 2 flavors, a six-speed manual and a six-speed automated dual-clutch transmission. Our tester came with the dual clutch, which means it's quicker than rowing your own. The body has been dropped by 0.2 inch over the GTI, and power is sent to all four wheels through a Haldex all-wheel-drive system.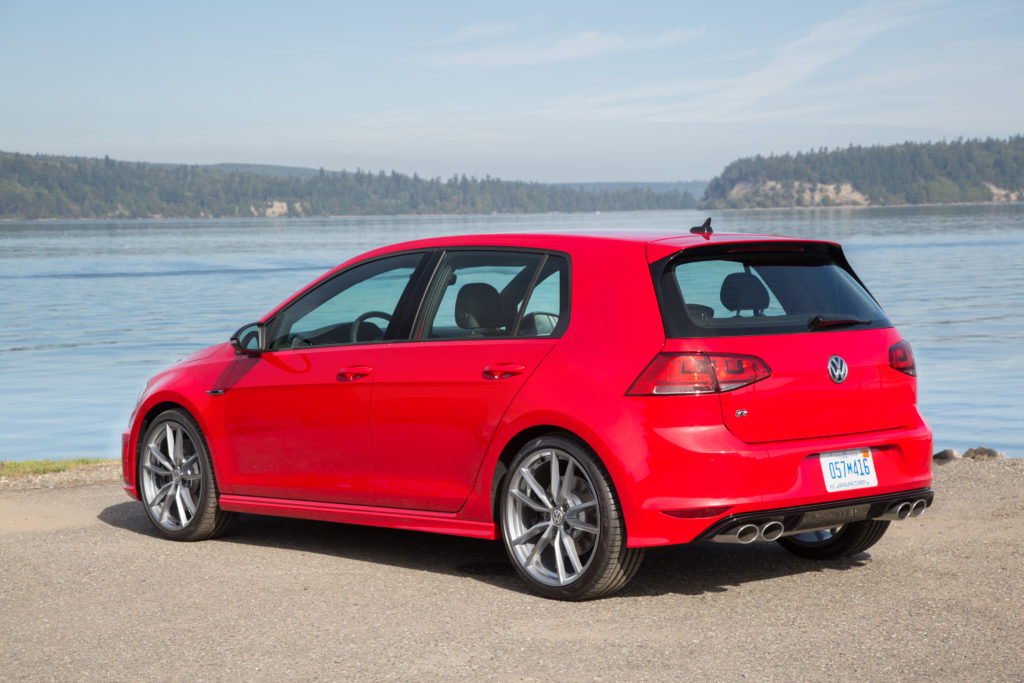 New for 2017
VW has added some standard items for 2017. The Golf R with DCC and Navigation comes standard with Adaptive Cruise Control (ACC), Forward Collision Warning and Autonomous Emergency Braking (Front Assist), Blind Spot Monitor with Rear Traffic Alert, Front and rear Park Distance Control (Park Pilot), Lane Departure Warning (Lane Assist), High Beam Control (Light Assist) and 19-inch "Pretoria" aluminum-alloy wheels, shod, in our case, with Pirelli P -Zeros.
App-Connect. The Media unit is standard on the base model. Featuring a 6.5-inch screenn touch display, standard features include AUX-in, two SD card slots, and a USB multimedia interface with Apple iPhone® and iPod® compatibility, reverse camera display, and Bluetooth® technology with streaming audio, the ability to sync two compatible phones simultaneously and send and receive SMS text messages with compatible phones, App-Connect compatible smartphone integration, a JPEG viewer, SiriusXM® Satellite Radio, and HD Radio.
Performance and Handling
There is still a hint of turbo lag present off the line, unless you use Launch Control, which we did a few times. Once on the move this 3,325 lb Volkswagen is very quick indeed. The grip is sensational, we couldn't defeat the P-Zeros or the clever torque-vectoring-system. Too fast into a corner and the Golf R simply tucks its nose in.  The DSG is great on this car, however, the paddle shifters are the way to go, providing instant up or down changes and avoiding that slight confusion DSG 's have at lower speeds.
Once again the R was pretty easy to launch for our acceleration tests with 0-60 coming almost up a tenth faster than our 2015 tester, in a very rapid 4.58 secs. The all important 50-70 mph dash is dispatched in a scant 2.49 seconds, making passing very easy to accomplish when short sections of broken lines present themselves. We stayed in Race (Sport) for most of the time, where the transmission is mapped to give you the optimum gear required for very spirited driving. The Driving Mode Selection feature has three programs in the Golf R: "Normal", "Individual", and a "Race" mode that has been specially designed for the Golf R. In "Race" mode, which is designed for high-speed track driving, engine response and the shift points of the DSG transmission are configured to be even sportier. In the "Individual" driving profile, the driver can combine mode settings for various individual. We selected Normal mode for steering as Sport felt a tad artificial.
San Diego's mountains to the East provide some excellent twisty and winding roads to properly evaluate the R. Attacking these roads, the R is sensational, biting hard into very tight bends, you can get back on the power early on exit and surge on to the next one. Confident handling is what sets this car apart, it has even less desire to under-steer than its little brother GTI.  As I said before pushing really hard into a corner we simply couldn't get the tires to lose traction. Just stay on the throttle through tight corners without fear of plunging into a ditch. We didn't.
The R certainly sounds better than the GTI, thanks to an enhanced engine noise system called 'soundaktor'. Its very bassy and sounds good but eventually can become tiresome so you can turn it off. The sound is generated by the device that sits under the middle of the dash.
The ride is pretty good except on typically rough San Diego pavement where some jarring is present, but for the most part rides better than a Subaru STi.
Interior
Inside is much the same as the GTI, super supportive and bolstered front chairs hold you in place when you are doing mach 1 with your hair on fire. The screen is a little small but the touchscreen controls are easy to use and pairing a phone is a bit less fiddly than the Audi system. Now that VW has done away with the Iphone connector and added USB I can't find anything wrong…..or can I. Well the center armrest doesn't open due to some US regulation. Weird because the Golf Alltrack I have on loan this week allows it to open it and there is a hack on youtube that will show you how to do it if you desperately need that cubby, because it's there, you just can't get the lid open.
Overall though, fit and finish are impeccable, this is a real grown up car for those with sporty intentions who don't want to look like a street racer.
Verdict
For the week I had it the 2017 Golf R proved itself to be a near-perfect companion, and I never thought any less of it despite VW's diesel woes. The first time round I complained about the price, this time it is more, but with added goodies. Its main rival has got to be the S3 which is even more expensive, and less practical and the best thing is it looks like a cooking Golf 1.8TSI, at a glance. If you need a practical hatchback in a demure package that will devour twisty roads and out drag a Mustang, then this is for you. If you can't find the extra dough then buy a GTI, either way you can't go wrong…..and yes in our humble opinion this car is better than a Subaru STI.
2017 Golf R Numbers
| | |
| --- | --- |
| VEHICLE TYPE: | Front-engine, 4-wheel-drive, 5-passenger, 4-door hatchback |
| PRICE AS TESTED: | $41,295 (base price: $39,580) |
| ENGINE TYPE: | 2.0 turbocharged and intercooled DOHC 16-valve inline-4, direct fuel injection |
| POWER: | 292 hp @ 5400 rpm |
| TORQUE: | 280 lb-ft @ 1800 rpm |
| TRANSMISSION: | 6-speed dual-clutch automatic with manual shifting mode |
| CURB WEIGHT | 3,325 lb |
| ZERO to 60 mph: | 4. 58sec |
| 50 to 70 mph | 2.49 sec |
| 30-70 mph | 4.13 sec |
| STANDING ¼-mile: | 13.02 sec @ 106 mph |
| TOP SPEED (governor limited): | 153 mph |
| EPA city/highway/combined: | 23/30/25 mpg |