Cadillac has been battling an image issue for some time despite producing some world class cars over the last few years. Case in point I told a friend, who is a car buff, that I was driving the 2017 Cadillac ATS-V and it was a stick shift to boot. His response was….. Cadillac has a stick shift? He then asked if it handled like a land yacht. I said let's go for a drive, which we did. Needless to say he spent the next ten minutes with his mouth wide open in total amazement. Job done…all you need to do is drive this car to be immediately grinning from ear to ear. It's better than the BMW M4….period. Save your money.
What makes it go?
The twin turbo V6 is a masterpiece, it pumps out 464-hp and 445 lb-ft at a heady 3,500 rpm, which seems high but isn't because it creates one of the most linear turbocharged engines I have ever driven. So instead of a huge rush of torque low down, this engine behaves like a large normally aspirated V8. It's tremendous and it loves to rev. Mated to a six speed  transmission our ATS-V coupe hit hit 60 mph in 4.4 seconds after a few attempts. We gave up trying to launch faster because the true joy of this car is once you are on the move.
What makes this car great?
In the real world the ATS-V is a remarkable car and I'm not fawning to Cadillac here, it's simply world class. True it has some faults but I'll get into that later.
I took it out to the mountains East of San Diego of course, in search of the twisty bits. It didn't take long for me to be completely absorbed in the car.  Firstly the steering, it's stand out good, has real feel and turn in is instantaneous…. point it in the direction you want to go and it goes…telepathic. It's perfectly weighted too, heavier than the Germans typically offer, but that makes you have to drive this car, it captures the senses. The electronics simply don't interfere making for a much better driving experience.
Clutch take up takes some careful modulation but the stick is fairly precise..I didn't miss any changes during the week, that I can remember. My tester had steering wheel-mounted paddles that initiate the ATS-V's active rev-match feature if you are unable to do heel-toe downshifts. It makes it much easier and the engine makes a pretty good noise doing so. I spent all week in Sport mode thereby making full use of the tremendous aluminum Brembo brakes, the excellent Magnetic Ride Control, and of course the best tires, Michelin Pilot Super Sports. All this adds up to tenacious grip in the dry, incredible cornering and even under full bore launches it was hard to un-stick the Michelins. They say full fat milk is actually better for you and that is precisely what Cadillac gives you in the ATS-V. If you are lactose intolerant, then buy a Prius.
Inside Look
I have to mention the seats first, ours were the optional Recaro sport seats, that came with the Carbon Black package. They are super comfortable, adjust in more ways than you can imagine and my favorite part, the side bolsters adjust to lock you in place. Rear seat passengers also have comfortable, supportive seats but legroom seems limited in the Coupe and you have to vault over the seat belt to get in. Materials quality is good, but there seems to be a mish-mash of different quality with Alcantara thrown in here an there with budget plastics.  The only other gripe is a larger coffee cup will get in the way of your gear shifting …so buy a tall to avoid this.
The Cadillac's updated CUE infotainment system is pretty good and my usual test is how quickly I can set up Bluetooth. In this case, despite using unfamiliar controls it took less than 60 seconds . It doesn't, however,  have physical buttons so the controls did prove tricky to operate at first. I also had to grab the Cadillac screen wipe from the glovebox as I was constantly aware of my finger prints all over the screen, but this is more my problem than the car's.
Oh that front spoiler!
Our car came equipped with the Carbon Black package which includes a very low front spoiler that lost a battle with a curb in a parking lot on the last day we had the car. Seeing as carbon fiber is quite brittle, the subsequent scarring meant that it had to be replaced. Note to self….park where there are no curbs…..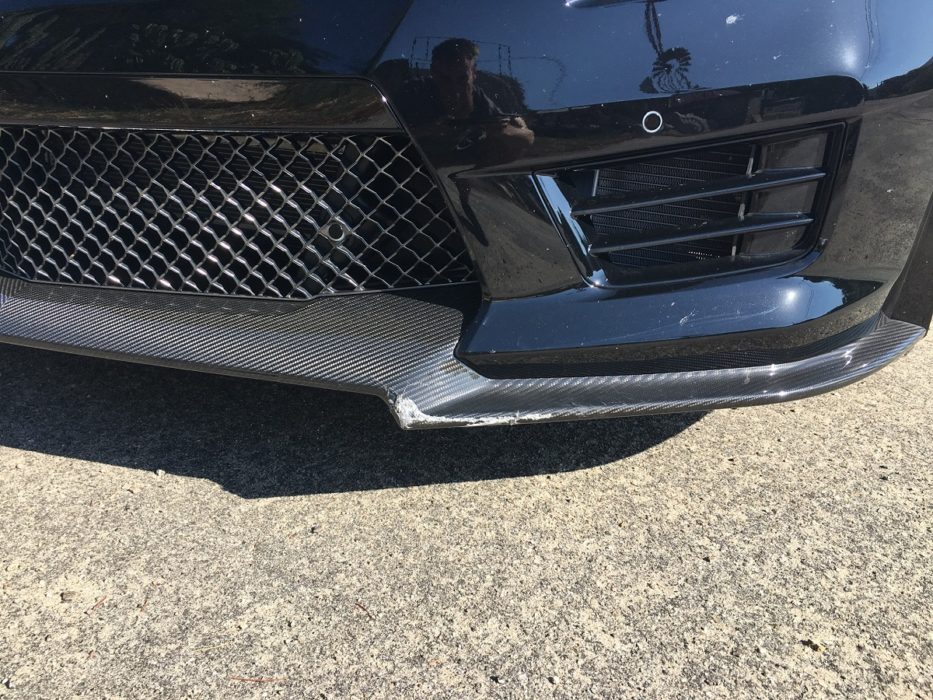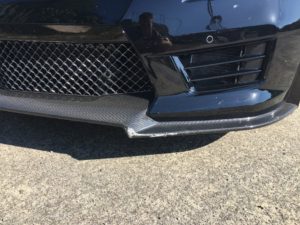 Last Impressions
Sad to see the ATS-V leave us at the end of the week, it served us well, despite needing several fuel fills. It's a handsome coupe, understated to a degree and has impeccable handling and the best steering in any sports coupe/sedan I have driven. The best part is you have to drive this car, take it by the scruff of the neck and it rewards you with automotive nirvana. Yes the cabin does need some attention, but Cadillac has gotten the hard part right, the engine, chassis, suspension, it's all so well put together you can overlook these small interior flaws.
If you like to stick to what the Germans offer you should lose the badge snobbery and invest in one of these.
| | |
| --- | --- |
| BASE PRICE | $62,895 |
| PRICE AS TESTED: | $77,485 |
| VEHICLE TYPE: | Front-engine, rear-wheel-drive, 4-passenger, 2-door coupe |
| ENGINE TYPE: | 3.6 liter twin-turbocharged DOHC 24-valve V-6 |
| POWER: | 464 hp @ 5,850 rpm |
| TORQUE: | 445 lb-ft @ 3,500 rpm |
| TRANSMISSION: | 6-speed manual |
| CURB WEIGHT: | 3,760 lb |
| Zero to 60 mph: | 4.4 sec (3.9 sec automatic) |
| EPA city/highway/combined: | 16/23/19 mpg |
| OUR OBSERVED | 14.5 mpg |
| PROS | Razor sharp steering, great handling, goes where you point it |
| CONS | Could be lighter, front spoiler doesn't like curbs |