Smooth and Serene – Expectations Exceeded
Our Crimson Red, 2017 Buick LaCrosse tester arrived with little fanfare……I mean it's just a full size sedan right? Well, despite being somewhat overshadowed by Lexus, more so by perception than anything else, it also loses out to Buick's own line up of SUVs that buyers seem to be drawn to these days. So what if all you want is a big, comfy, quiet and decent looking full size sedan? Well the completely redesigned LaCrosse is now a legitimate luxury car, not only in the way it drives but the level of luxury you find inside. Sure it has its faults but they are few and easy to fix. To tell you the truth I could have easily driven it for another week, wafting along to work, running errands, cruising on the freeway and simply enjoying the ride.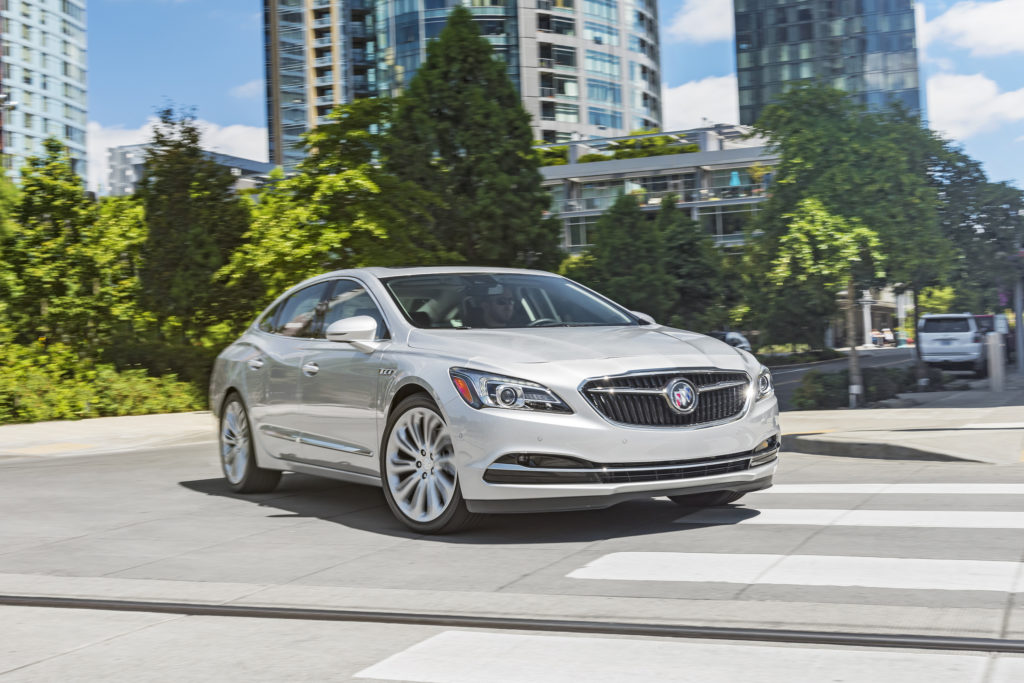 What Makes It Go?
GM has expended much effort to improve the performance and efficiency of the 2017 LaCrosse. It uses their next-generation, direct-injected 3.6-liter V6, which by the way is the only engine offered. Outputs are 310 hp @ 6800 and 282 lb ft @ 5200. Despite being longer, lower and wider than the previous model, the 2017 LaCrosse is built on a stronger yet lighter structure. It is about 300 pounds lighter than before, thanks largely to the use of press-hardened, high-strength steels. Our tester was a front drive model and although all wheel drive is available it may not be worth the additional cost. With the 20 inch wheel and tire combo we had no issues with torque steer. Only in the wet did we get some wheel slip if we were too aggressive with the go pedal.
The Buick comes with standard engine stop/start, a system the we have loathed in the past due to jerky and delayed restarts. This one is so good we didn't even notice that it had the feature, which is good because it can't be turned off. It is one of the best and most unobtrusive stop/start systems we have ever used. Power is routed through a new eight-speed automatic transmission which comes with an electronic shifter which requires a weird dog leg shift for reverse, but otherwise is pretty easy to use. Just remember to press the button on the side first. It also uses a cylinder deactivation system that we also didn't notice, so props to the Buick engineering team here.
How Does It Go?
Smooth and serene is the LaCrosse's forte, it's supremely quite at most speeds and only relays noise into the cabin on rougher pavement. We were expecting the car to have a somewhat wallowy ride and roll considerably in the corners. No the Buick exhibits perfect body control and even encourages higher cornering speeds than expected. Out on the road, the transmission stays in higher gears for most of the time but if you put your right foot in it, making sure to depress the button at the end of the pedal travel you get some very spirited acceleration. The optional 20 inch wheels not only look good but steering feel is improved and you get an upgraded suspension with continuous damping control on the FWD cars. We tried Sport mode a couple of times and didn't notice a huge difference, but we are told it quickens transmission shifts and makes tweaks to suspension and steering.
Inside
The cabin is of a fairly high-quality with simulated leather on the doors, dash and center console. Most of the materials are soft touch, it's only when you venture lower down that that the plastics become a tad scratchy. The front seats are excellent, comfy yet supportive and on our fully loaded tester had a massage function, perfect for sitting in rush hour traffic. Back seat passengers don't get left out where there is an abundance of legroom even for very tall people. Our Premium car came with the Driver Confidence Package 2 which gives you Automatic Park Assist, Front Pedestrian Detection, Front Automatic Braking and Full Speed Range Adaptive Cruise Control. We also has the power sunroof and rear shade option for $1550, something we could certainly live without. We did like the IntelliLink 8-inch-touchscreen with Apple CarPlay, Android Auto and OnStar 4G LTE with Wi-Fi hotspot integration is standard on all trims. The interface is very easy to use. i also lie head up displays
With 15 cu ft of trunk space, improved from the outgoing model, there is plenty of room for a weekly Costco run. With the split seat down we were able to fit a new Ikea rug, several large items from Costco and filled the cargo net with grocery items.
Verdict
Most people buy bigger than they need, houses and cars being the most obvious ones. I prefer a decent driving car and this Buick delivers. The 2017 Buick LaCrosse is compelling in that it offers style and better handling than an SUV, but still has plenty of room. It's lovely inside, and  fun to drive and in our case, full of the latest in technology. True our car had almost $7K of options but you can get a base Premium for closer to $41K and that's not bad. If you are thinking of buying a Lexus ES, drive this one first…………..
2017 Buick LaCrosse Numbers
| | |
| --- | --- |
| Base Price | $41,065 |
| Price As Tested | $48,495 |
| Engine | 3.6L V-6 DOHC VVT with  direct injection |
| Horsepower | 310 hp @ 6800 |
| Torque | 282 lb ft @ 5200 |
| Transmission | Eight-speed, electronically controlled automatic overdrive with torque converter |
| 0-60 mph | 6.0 seconds |
| Curb Weight | 3,598 lb (FWD) |
| Cargo volume | 15 cu.ft |
| EPA Fuel Economy – Hwy/City/Combined | 31/21/25 |
| Our Observed Fuel Economy | 19.8 |