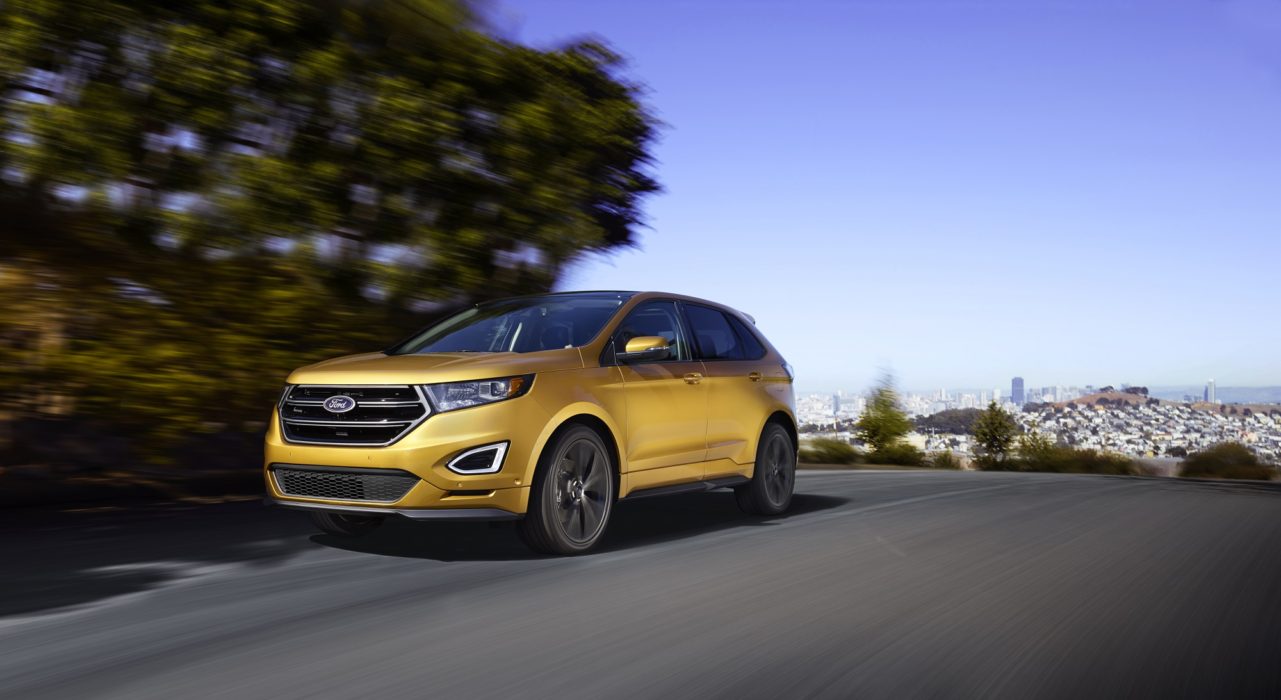 If that name seems a bit of a mouthful add on Adaptive Steering and explain it to your neighbors. They may ask "What is a Ford Edge"? We drove one, a 2014 I believe and came away not too impressed. It did everything well but didn't really wow us. The Edge is bigger than compact Escape and smaller than the three-row Explorer but it isn't an Audi Q5…….until now.
Performance
The 2016 Ford Edge Sport, redesigned in 2015, uses the Fusion mid-size sedan's chassis which makes it 23 lbs lighter than the old model. The one we drove had the 2.7 L, twin turbocharged, 315-hp V-6 with 350 lb-ft of torque ready and waiting at a low 2,750 rpm. Delivery is silky smooth and the engine does not feel strained all the way up to the red line. With no turbo lag off the line we did a quick stopwatch run from 0-60 and the clock stopped at 5.8 seconds, not bad at all and beatable with a VBox if we had more time. The 6-speed automatic with manual shifting mode glides through the gears, while the interior remains as quiet as a church mouse.
So What Is Ford's Adaptive Steering?
Adaptive steering changes the ratio between the driver's actions at the steering wheel – the number of turns – and how much the front wheels turn. In vehicles without the technology, this is a fixed steering ratio. With adaptive steering, the ratio continually changes with vehicle speed, optimizing the steering response in all conditions. At lower speeds, such as when pulling into a parking space or maneuvering in tight areas, fewer turns of the steering wheel are required. Adaptive steering makes the vehicle more agile and easier to turn as it dials more steering into the road wheel. At highway speeds, the system optimizes steering response, letting the vehicle react more smoothly to each steering input. The system – created in collaboration with engineers from TKAG, a Germany-based automotive supplier – uses a precision-controlled actuator placed inside the steering wheel, and requires no change to the vehicle's traditional steering system.The actuator – an electric motor and gearing system – can essentially add to or subtract from a driver's steering inputs. The result is a better driving experience at all speeds, regardless of vehicle size or class.
We have to agree, this system works very well. You do notice a difference at low speeds, the lack of effort required to make a 90 degree right turn for example. Do what we did and jump into a regular steered Explorer and it feels clumsy and vague. It seems to work better than most systems we have used. Well done Ford!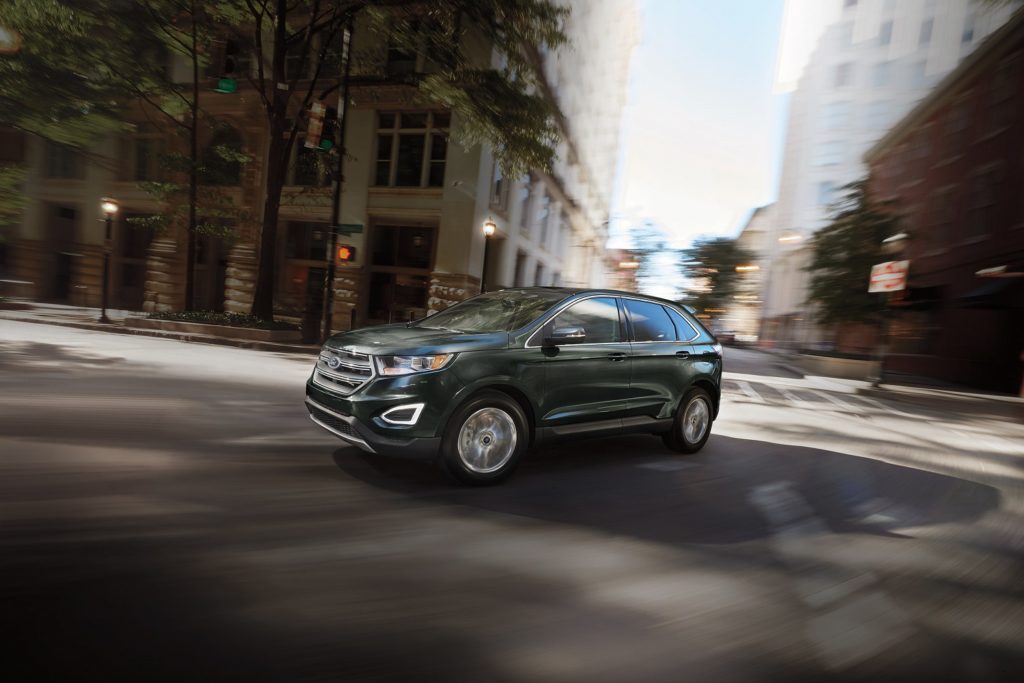 How Does It Go?
We took it on a freeway section, some surface streets and some moderately bendy bits and for the most part it's composed and smooth. It's certainly no canyon carver, much more at home cruising the straight bits at high speeds, in near silence. In fact with all this serenity around you have to watch your speed as it is quite easy to be doing 90 mph + with little effort. The springs are 10 percent stiffer than the regular Edge's and 15 percent stiffer anti-roll bars with accompanying shock absorber modifications give the car pretty tight body control. Having said that there's plenty of compliance in the suspension and the ride is smooth.
Inside
Our tester had a slightly eye watering sticker of $49,290 off a base price of $40,490. What do you get for that additional $8,880? Part of it is tied to Equipment Group 410A which includes Voice Activated Nav, Blind Spot Monitoring, Lane Keep Assist, Heated Rear Seats, Heated/Cooled Fronts, Park Assist and outside this package for an additional $1,150 our car had Adaptive cruise Control and Collision Warning.
The 10 way powered, suede like, front chairs are super comfortable, the dash layout is clean with a few bits of carbon fiber here and there. Plastics have a good quality feel and the only thing we weren't crazy about was the thin steering wheel. What we can't get over is how quiet and stealthy this thing is. We drove this right after a stick shift Mustang V8 and it didn't feel a whole heck of a lot slower.
2016 Ford Edge Sport 2.7L EcoBoost AWD
| | |
| --- | --- |
| VEHICLE TYPE: | Front-engine, 4-wheel-drive, 5-passenger, 4-door hatchback |
| PRICE AS DRIVEN: | $49,290 (Base Price: $40,490) |
| ENGINE TYPE: | Twin-turbocharged and intercooled DOHC 24-valve V-6, aluminum block and heads, direct fuel injection |
| POWER: | 315 hp @ 4750 rpm |
| TORQUE: | 350 lb-ft @ 2750 rpm |
| TRANSMISSION: | 6-speed automatic with manual shifting mode |
| CURB WEIGHT: | 4437 lb |
| ZERO to 60 MPH: | 5.8 sec (est) |
| EPA Combined/City/Highway: | 20/17/24 mpg |