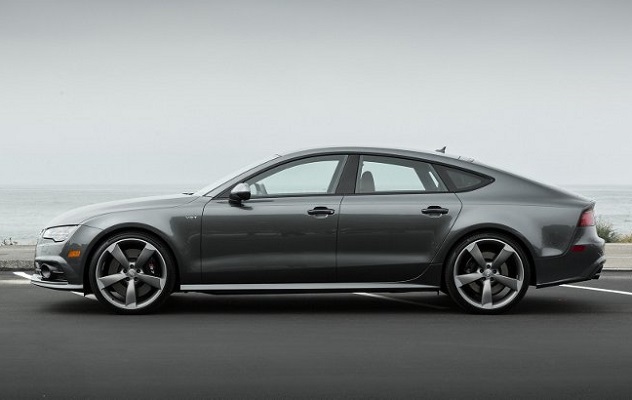 The A7 is a fine car, it just needs more power, much like every car in our opinion. So to appease that power hunger, Audi gives us the S7, one step up and like a single malt Scotch, creamy and smooth. So what's new for the 2016 Audi S7? Well it will take a keen eye to spot the exterior differences between the 2016 Audi S7 and it's  2015 counterpart. The grille gets slightly altered dimensions, as well as a chrome option which can be switched out for gloss black. The the front splitter has been  slightly reshaped and the headlights get new daytime running light accents. That's it…..well not really, this is a mid-cycle refresh so most of the interesting changes are under the skin.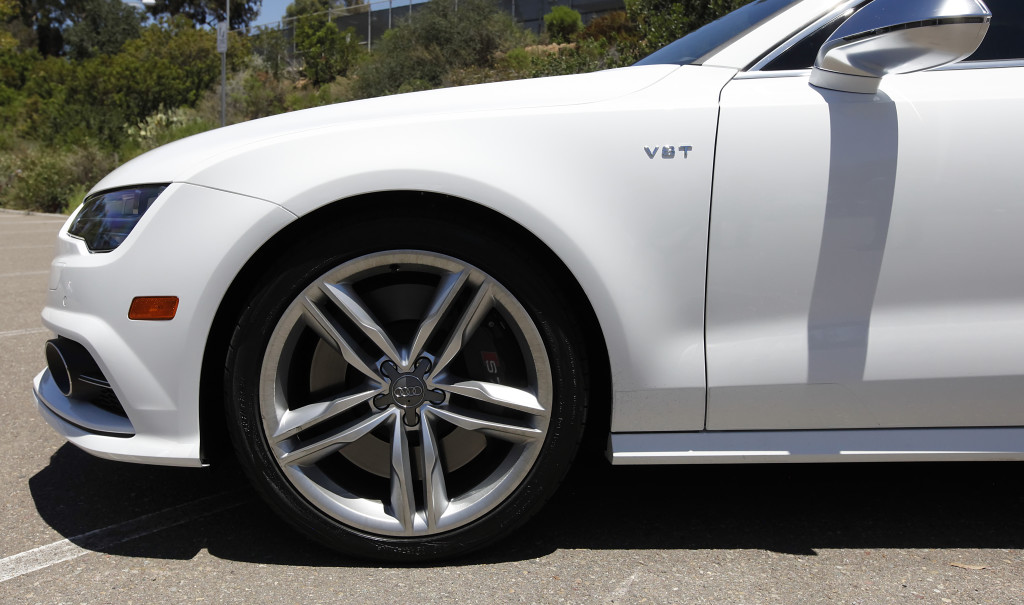 Engine and Transmission
The twin turbo V8 has been reworked to produce a maximum of 450 horsepower @ 5,500 rpm,  torque stays the same as before at 406 ft- lb available at a low 1400 rpm, all channeled through the same brilliant seven-speed dual-clutch gearbox. Our White tester came with the $3,500 Sport Package which includes Dynamic Steering, Quattro Sport rear differential and a sports exhaust system (with black tips), which sounds fantastic.
The V8 Audi claims a 0-60 in 4.5 seconds but after a couple of launches we were able to better that with a 4.35 seconds and onto 100 in 10.23, swift enough for most we presume……..if not then get the 560 hp RS7. Our car only had 1000 miles on it so we are sure, once it loosens up, it will be quicker. At engine speeds between 960 and 3,500 rpm, and loads up to 185 lb-ft of torque, the S7 can deactivate four of its cylinders, resulting in a 12 percent fuel saving at 55 mph, which you might have trouble staying at. We were rarely below 55 mph.
How Does It Drive?
It's hard to find fault with the way this Audi goes. From the outside it's a large car and the curb weight proves that. Once on the road though, the car feels a lot smaller and can be hustled through tight turns like a hot hatch. The nose of the car tucks in, the front-end bites hard and you're through the bend and back on the power. Most of this is thanks to the sport differential which sends torque across the rear axle to help rotate the car and it works very well. It makes a mediocre driver into a good one. The steering is pretty good, we kept the system in Comfort mode since Dynamic was a little too heavy and gave weird feedback. Our car required a decent shove on the brakes to stop from lower speeds but we never doubted their stopping power.
Our Trip
Is there a better way to test the S7 other than a trip to Las Vegas? ……probably not, so we set off on I15 North from San Diego expecting a 5+ hour trip due to traffic. The S7 proved utterly vice-less  on the freeway, cruising at high speed, A/C set to 72 f and some favorite tunes playing. We have taken to using Waze recently as it helps a lot in locating law enforcement on trips. Bluetooth is pretty easy to set up so the warnings come through the speakers.
Once past San Bernardino we started to climb the Cajon Pass and despite heavy traffic and many semis the S7 was able to storm up mountain with ease. We stopped to refuel in Baker, CA, the home of the world's tallest thermometer, with some expensive California Premium. Most of the next section of the I15 is 4 lane highway and it was there that we passed a couple of manufacturer plated S550's and then caught up with a hard charging C Class Mercedes wearing a vinyl wrap and no distinguishing badges. Foot hard down the Mercedes driver had the legs on me and I am pretty sure it was a 2015 C63 AMG.
Arrival in Vegas greeted us with a cacophony of beeps from our Escort radar and Laser detector. Time to shut that off and head for our overnight hotel.
Seeing as the I15 had been heavily trafficked for most of the the time we chose an alternate route South from Henderson to Needles, CA on the 95. This road is a 4 lane divided highway with very little traffic and a 75 mph limit,  so our progress was pretty rapid, due to lack of law enforcement. Outside temp was 113 f at this point, inside it was a cool 72 f and the S7 was happy to cruise at high speeds for miles on end…..until, that is,  we needed fuel. We decided to gas up while we were still in Nevada seeing as it was $3.09/Gallon of Premium.
Next stop was Blythe, CA and then onto the 78 which is a fast 2 lane road with fast sweepers and long straights with plenty of broken lines to pass slower traffic. This takes you through the dunes in Glamis, CA, quite a surreal experience with the wind blowing the sand across the road and Sahara like vistas. The rest of the trip is fairly routine with a quick blast back to San Diego on the I8. The S7 never skipped a beat, was majestically good at every road we threw at it and we would like one.
Interior – A Class Act
One thing that hasn't changed, the MMI controller still turns backwards. No matter how many Audis I drive I can't get used to this. This irritation aside the interior has to be one of the best in any luxury vehicle I have driven. Our S7 tester came with the pinstripe wood detailing for $1,000, Contour seating package with massage seats for $1,950 and of course the Sports Package for $3,5oo. The new MMI also gets a range of upgrades, including displaying Google Earth data as well as driving directions, car information, and much more. The MMI system now has twice the processing power thanks to the Tegra 30 processor at its core.
Back to the seats which are extremely comfortable with electric adjustment for virtually every part of them including side bolsters and lengthening the set cushion. The back seats accommodate 2 and there is ample headroom, but the best thing about the S7 is at the very back of the car, it's a hatchback! and has a huge amount of cargo space.
Verdict
If you are looking for a luxury car that will obliterate the miles, pass slower vehicles with ease, while cossetting you in one of the nicest interiors this side of a Bentley, for under $100k, then this is a great choice. True we didn't do very well on gas (average 16.9 mpg), but who cares, the S7 is a tremendous piece of machinery. Prices start at $82k, our loaded tester was a shade over $93K.  If only we had won some money in Vegas……….
| | |
| --- | --- |
| Engine | 4.0 Turbocharged V8 TFSI quattro |
| Transmission | Seven- speed S Tronic |
| Power | 450 hp @ 5800-6400 |
| Torque | 406 @ 1400-5700 |
| 0-60 mph | 4.35 |
| 30-70 mph | 3.97 |
| 50-70 mph | 2.33 |
| 0-100 mph | 10.23 |
| Top Speed | 155 mph |
| Curb Weight | 4,564 lb |
| EPA City/Highway/Combined | 17/27/21 |