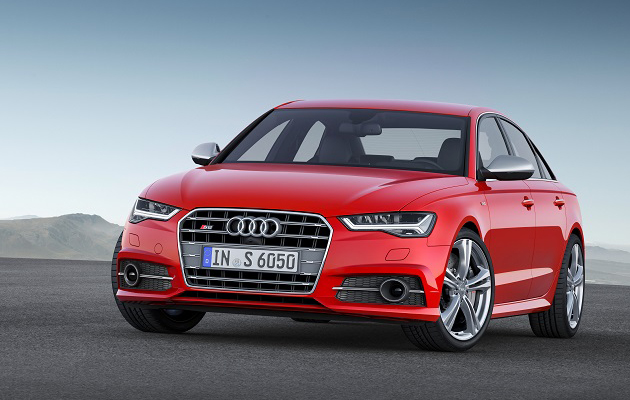 Hot on the heels of testing the very good 2016 S7, Audi dropped off a 2016 Audi S6 for us to sample and hopefully we would be able to choose a favorite. Doing so would be tricky as our week with the S7 was pretty spectacular, however with the S6 carrying the same big stick in a more restrained suit, we expected it to be a total sleeper…….. and it was. Just like the S8, its a stealth monster. A couple of people in the office thought S6 looked like like a bigger S4, but I think they are missing the point and if you want something that looks different then buy the S7. The changes to the exterior include redesigned headlights and air intakes in the front bumpers, which have also been given a more sinister look. Our car had the black grille and blacked our rear tail lights taking it completely over to the Dark Side.
Engine and Transmission
The S6 shares its engine with the S7 and that twin turbo V8 has been reworked to produce a maximum of 450 horsepower @ 5,500 rpm,  torque stays the same as before at 406 ft- lb available at a low 1400 rpm, all channeled through the same brilliant seven-speed dual-clutch gearbox. Suspension set ups are similar, our tester came with the $3,500 Sport Package which includes Dynamic Steering, Quattro Sport rear differential and a sports exhaust system (with black tips), which sounds fantastic.
It is worth noting that the S6 is has slightly smaller dimensions than the S7 and weighs some 80 lbs less, which we thought would make a small impact to the performance figures. With testing equipment on board we scorched to 60 mph in 4.15 seconds and onto 100 mph in under 10. Pretty impressive for a 4,400 lb+ full size sedan. That 0-60 time was 2 tenths quicker than we had been able to muster from the S7. Again our car had only a few miles on it so we are sure, once it loosens up, it will be quicker.
How Does It Drive?
The Quattro sport differential uses new algorithms, and an electronically controlled diff up front which provides much better handling and as a consequence under steer is virtually eliminated.  We were pretty impressed with the way this car goes, the transmission and torque providing instant acceleration whenever it was needed. Were able to hustle the S6 along some pretty twisty roads East of San Diego and apart from a little more body roll than the S7, it was fantastic fun. Most of this is thanks to the sport differential which sends torque across the rear axle to help rotate the car and it works very well. It makes a mediocre driver into a good one. The steering is pretty good, we kept the system in Comfort mode since Dynamic was a little too heavy and gave weird feedback. Our car required a decent shove on the brakes to stop from lower speeds but we never doubted their stopping power.
On our way back from the border town of Tecate on highway 94, which parallels the border for a while before turning Northwest towards San Diego, we were happy to not get held up by any traffic ……until, that is, we had to haul our speed down from excessive to crawl as we became stuck behind an aging Ford Expedition. The driver was doing a steady 20mph, all 4 tires were under-inflated and the rear axle was almost scraping on the pavement. I had to endure this for 5 more miles as there were no passing places and the line insisted on being solid even though I could have easily passed. Soon we approached the border patrol checkpoint and really hoped the border patrol officer would pull the vehicle over so we could get by. He did and I thanked him and put my foot down all the way back home.
Interior
One thing that hasn't changed, the MMI controller still turns backwards. No matter how many Audis I drive I can't get used to this. This irritation aside the interior has to be one of the best in any luxury vehicle I have driven. Our S6 tester came with the very nice cross stitched seats instead of the upgraded cooled and massaged seats we got in the S7. They provided good support if a little hard for those of a lesser backside.  The new MMI also gets a range of upgrades, including displaying Google Earth data as well as driving directions, car information, and much more. The MMI system now has twice the processing power thanks to the Tegra 30 processor at its core.
What you do miss in the S6 is the hatchback but once we opened the trunk the space is vast, 2 bodies big and a still room for set of golf clubs.
Verdict
The S6 prompts you to drive like a complete juvenile at all times. Stomping on the gas for absolutely no reason brought huge acceleration and stupid grins. It was addictive. We would pick the S6 for a number of reasons, the sleeper looks, the much lower price tag and the slight edge in performance. You wouldn't  regret buying either car, you just save a few dollars with the S6. Our tester's base price was $70,9007 and optioned out was $81,275. The husband of our Accounting person swung by for a quick drive, seeing as the dealers don;t have any sitting around for test drives and he was wowed. He currently drives an S4……guess what? ……he is upgrading to the 2016 Audi S6……a fine choice in my opinion.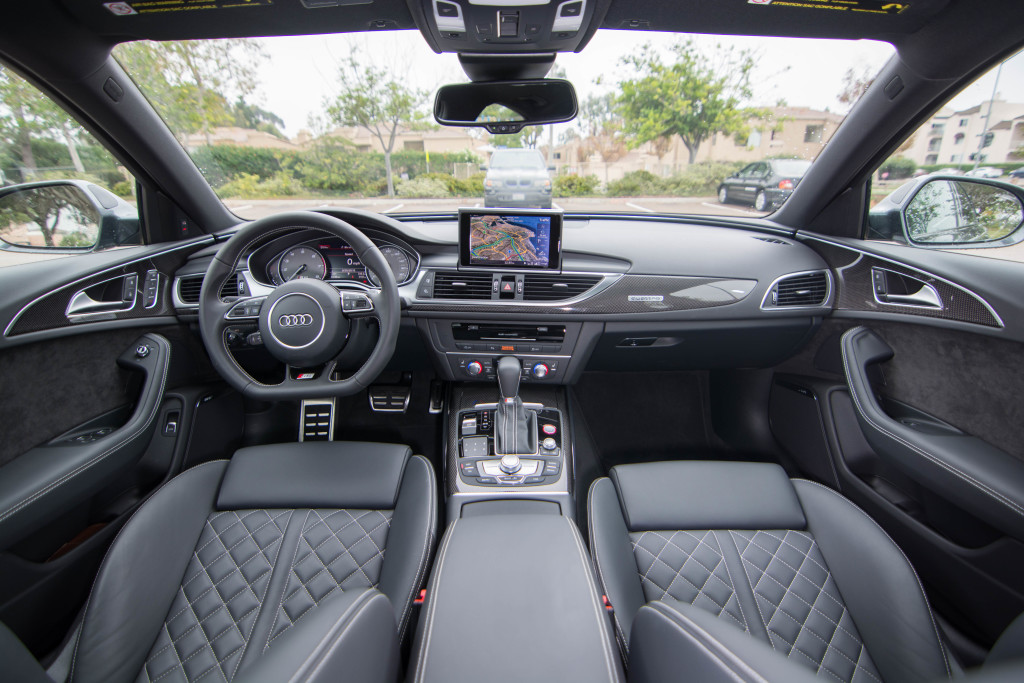 Photography by Mai Krakauer and Jimmy Wu
2016 Audi S6
| | |
| --- | --- |
| Engine | 4.0 Turbocharged V8 TFSI quattro |
| Transmission | Seven- speed S Tronic |
| Power | 450 hp @ 5800-6400 |
| Torque | 406 @ 1400-5700 |
| 0-60 mph | 4.15 |
| 30-70 mph | 3.76 |
| 50-70 mph | 2.20 |
| 0-100 mph | 9.94 |
| Top Speed | 155 mph |
| Curb Weight | 4,486 lb |
| EPA City/Highway/Combined | 17/27/21 |