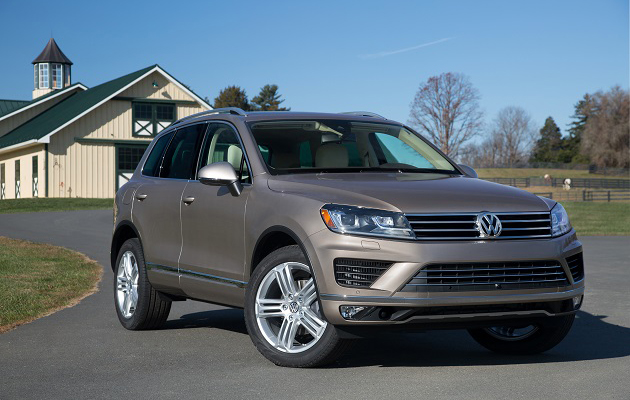 How should you pronounce Touareg? Well here in the States most people say 'Tour-egg' and across the pond they say 'Twah-regg'. I bet you're glad you know that now.  Volkswagen is expected to expand its SUV lineup in a few years. The new Tiguan was just announced and is bigger and more grown up. The all new Touareg should be released as a 2017 model but we don't have confirmation yet. Meanwhile VW dropped off a 2015 VW Touareg TDI Executive, which is the top end model and stickers at $65,610, and that's a lot when you consider the competition includes the BMW X5 or the upcoming GLE from Mercedes. Admittedly this car is loaded and typical buyers can introduce themselves to the Touareg for $44K if they opt for the gas engine.  
For 2015, the Touareg has been slightly refreshed but doesn't offer a 3rd row of seats as some buyers with larger families may want. That said, it really is a decent five-passenger luxury SUV.  Half of Touareg buyers choose the diesel model over the gas V-6. The 3.0-liter turbo-diesel V-6 is good for 240 hp at 3,400 rpm and 406 lb-ft of torque at just 2,000 rpm. The 3.6-liter gas V-6 produces 280 hp at 6,200 rpm and 266 lb-ft at 2,500 rpm. Our 2015 Touareg TDI Executive model, sprinted from 0-60 mph in 7.2 seconds, not too bad for a 5,000 lb oil burner.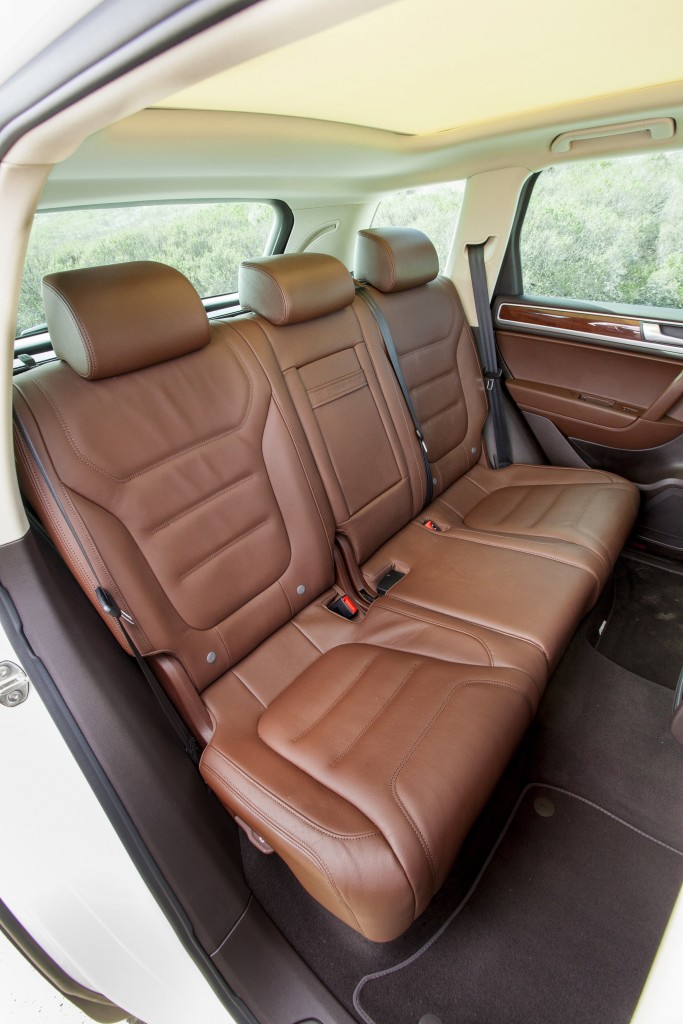 On The Road
Diesels are funny, not in a humorous way, more in the way they drive. They don't rev much past 4,000 and with a hint of turbo lag at a stop it takes a while to get used to the power delivery. Once on the move, especially up hills, the TDI feels like it will pull a house behind it and still pass slower vehicles. There is tons of torque available, meaning the smooth 8 speed transmission doesn't need to shift down. It's all very relaxing. The Touareg sits quite high so you get a commanding view of the road ahead, but despite this it has less ground clearance (7.9 inches) than a Subaru Outback (8.7 inches). This didn't stop us from veering off the paved road North of Ramona CA and heading East on Forest Route 11S01, a dirt track that heads up the West side of Black Mountain. The road is moderately rutted and with the VW in Off-Road mode, the self locking center differential activates to get us out of tricky situations……there weren't any and the Touareg coped very well with the steep rocky terrain. I would bet most owners wouldn't take their vehicle on this road but it proved to us that this SUV has the chops to do it. Hill Descent control eases you back down and the steering lightens up to prevent kickback. It was all good fun .
Braking performance took a little getting used to as a fairly hard push was required when stopping from higher speeds approaching a stop light. On road manners are impeccably and it's relaxed in both stop start traffic and on the highway. You do hear and feel a bit more road with the Executive model's 20-inch wheels, but most of the time it wasn't noticeable.  Roll is there as expected and in tight fast turns you do feel the car's bulk. We found that it was better to shed more speed than not, to avoid plow on under-steer and a very heavy tiller. We had some ooh ahh moments and learned quickly. Most of the time was spent in Sport mode which holds gears longer for a quicker getaway, but unsurprisingly this didn't help our fuel consumption which hovered around 20 mpg. With a lighter right foot, if that's the one you use, you can get 29 mpg. If you do, then expect to go 700+ miles before needing a fill up. Another positive for burning diesel is the cost, some 54 cents cheaper than regular gas here in California. 
Inside Look
The 2015 Touareg's interior is pretty nice, our $65,610 tester was loaded, including a panoramic sunroof, 20-inch wheels, wood trim, stainless steel pedals, heated front and rear seats, (no cooled seats…why?) a heated steering wheel, an upgraded sound system, and a multi-camera parking system. Bear in mind the diesel engine is a $3,500 option on the top three trim levels. We did like the rear easy-open tailgate; simply wave your size nine under the rear bumper twice and voila, it opens, ready to throw your shopping, the dog and a couple of children in with your free hands.
Our Moonlight Blue exterior paint matched the Terracotta Brown Interior leather seat trim perfectly and the seats proved to be comfortable and supportive. The touch screen is good, much better than fiddling with a mouse wheel a la BMW or Audi, and so is the info screen in front of the driver that shows an altimeter, a 360-degree compass, and the angle of the front wheels at any given moment.
Verdict
We liked the 2015 VW Touareg TDI for the week we had it. It was easy to drive on any road, on mud, sand or pavement and it never put a foot wrong. If you are looking for something different and you don't mind spending this kind of money on a Volkswagon badge, this is an excellent choice.