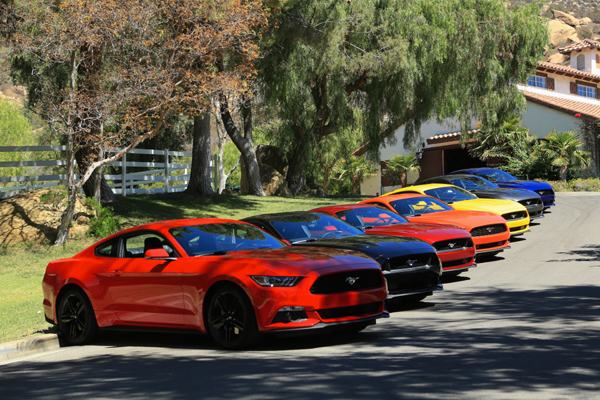 The Test
Having driven the 2015 V8 Mustang a couple of months ago with a manual shifter we were keen to compare it with the Ecoboost Turbo 4 with a stick too. That problem was solved when Ford invited us to drive 4 different versions, each with a stick and auto and with or without the Performance Pack. Perfect. Our goal was simple, drive the cars, have fun and see which one we prefer. The conclusion is definitely NOT what we expected.
2015 Mustang GT v 2015 Mustang Ecoboost – Let the battle begin.
The Cars
The Mustangs we drove were as follows.
Car 1 – 2015 Ford Mustang EcoBoost – Manual Transmission – NO Performance Pack – Recaro Seats
Car 2 – 2015 Ford Mustang GT – Automatic Transmission – NO Performance Pack – Recaro Seats
Car 3 – 2015 Ford Mustang GT – Manual Transmission – GT Performance Pack – Recaro Seats
Car 4 – 2015 Ford Mustang EcoBoost – Auto Transmission – Performance Pack – Leather Seats
We wanted to ensure that each test was as unbiased as possible, so each of our test drivers was required to wear a blindfold……just kidding…
Car 1
First up was the EcoBoost with the manual transmission, Recaro Leather Seats and every option checked for a whopping $37,755 MSRP. It did not have the Performance Pack and it showed in its behavior. Just like the GT we drove earlier, it's smooth and predictable; the basic suspension tune is forgiving on bumpy roads with a slight lean into the corners and it feels very stable at freeway speeds. The side benefit of the all new independent rear suspension is that it allows the chassis to be inherently stiffer. The steering is geared for quickness and builds effort in a very natural way, though we'd prefer more information about what the front tires are doing, especially when cornering.
The turbo 4 spools up with little lag and even on part throttle there is plenty of go. Mated with the manual transmission we think it works very well. The clutch is precise and forgiving and the shifter is easy to use……………. we loved it.  You can waft around town in 2nd or 3rd, so gear changing doesn't become a chore. True,  it does lack the grunt found in the V8. and is missing that V8 noise. Instead Ford engineers have programmed intake noise into the the cabin. It's definitely a four-cylinder sound, but it's deep and throaty enough to satisfy most.
As we have said before with the 2015 Mustang GT, the interior is a nice place to be. We were however, not so happy with the Recaro Seats and found them to be lacking in adjustment and a bit too wide. Great for larger people but our drivers were sliding around in the corners.
Conclusion number one: Don't check the Recaro Seats box
Car 2
We had only driven the manual GT before so we were anxious to see how the auto performed. You immediately hear that V8 sound once you push the starter button and it only gets better. The V8 has considerably more power but is not massively faster, certainly from 0-60, in fact only by 0.8 sec.
There is an on-ramp at Carson, CA that allows you to build speed before you crest the hill and join the freeway. If you are carrying enough speed (we won't say how much), you can catch a bit of air, which we did on a couple of occasions, however, if you don't have the Performance Pack it doesn't work. Why? Well the standard suspension is too compliant, great for a freeway trip to Vegas, but not so much for fun. This car simply irons out the bump at the top of the on ramp, gives a little wiggle and joins the freeway. It's all a bit boring.
Conclusion number two: Check the Performance Pack box.
Car 3
If you can't tell by now we have the 4 cars ordered by least favorite from the top. We jump into the manual V8 with the Performance Pack, which our tester in November did not have. Let me tell you if you are going to buy a new Mustang then you have to check this box.
The optional performance package adds firmer suspension tuning, heavy-duty front springs, a strut-tower brace and summer tires, all which make this Mustang corner flatter and less likely to get upset by pavement imperfections. So remember the on -ramp……well this one catches some air.
The only downer we had was the notchy shifter and difficult clutch, which made slow speed progress a little jerky. Most of our drivers had difficulty getting smooth changes and it made us want it to be an automatic. We can probably put it down to the fact that this was a test car and had been thrashed and badly treated during its short life.
Car 4
You might be thinking this one is our favorite Mustang, but it isn't. We'll explain later.
Firstly this car had the leather seats and we think they are some of the best standard seats we have sat in. With more lateral support and slightly softer (my backside was thankful) they are absolutely excellent. What didn't work for us is mating the turbo 4 to the auto transmission because the manual in Car 1 is sensational. Don't get us wrong, the auto is a great transmission, it just goes with the V8 better, like pancakes and maple syrup.
Conclusion
Which one should you buy?
We would take an EcoBoost with a manual transmission, Performance Pack and Leather Seats. That car would run you just a shade under $30K . If you absolutely have to have a V8 then go same spec and hope the manual is a little easier than our tester. Either way you can't go wrong.
2015 Ford Mustang GT v Ecoboost Specifications
| | | |
| --- | --- | --- |
| | 2015 Ford Mustang V8 | 2015 Ford Mustang EcoBoost |
| BASE PRICE | $32,925 | $25,300 |
| PRICE AS TESTED  | $45,885 | $37,660 |
| ENGINE  | 5.0L DOHC 32-valve V-8 | DOHC 16-valve inline turbo 4 |
| POWER | 435 hp @ 6500 rpm | 310 hp @ 5500 rpm |
| TORQUE | 400 lb-ft @ 4250 rpm | 320 lb-ft @ 3000 rpm |
| TRANSMISSION  | 6-speed manual | 6-speed auto |
| CURB WEIGHT  | 3820 lb | 3660 lb |
| 0-60 MPH  | 4.4 sec | 5.2 sec |
| 0-100 MPH | 10.4 sec | 14.3 sec |
| QUARTER MILE | 13.0 sec @ 113 mph | 13.9 sec @ 98 mph |
| EPA CITY/HWY/ | 15/25 mpg | 21/32 mpg |
Gallery
[Best_Wordpress_Gallery id="8″ gal_title="Ford Mustang Group"]
2021 Corvette Convertible Review
2021 Subaru WRX Series White