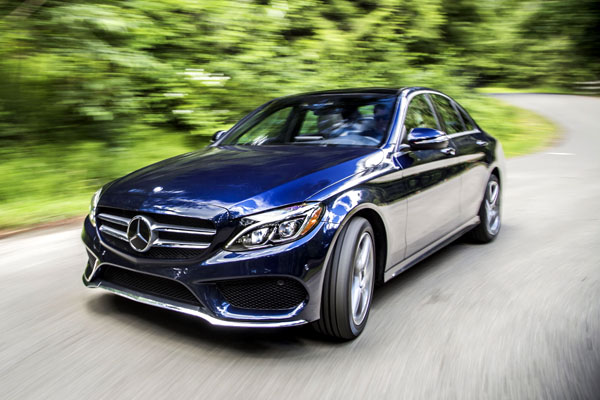 The Mercedes-Benz C-Class has come of age. If you remember the 2007 model with its low rent interior and 1.8 liter motor you may be very surprised with the new C Class. True, Mercedes did refresh the C-Class in 2012 and attempted to give, what was their entry level car, a touch of S-Class. Well I am happy to say with the 2015 Mercedes-Benz C400, they have succeed in producing a very good car indeed.
For years Mercedes tried to emulate the BMW 3 series to produce the ultimate sports sedan and they always fell a little short.  Now that they have decided to do their own thing and be original, the results are extremely good.
We drove the C400, packing packing a potent 3.0-liter turbocharged V-6 with 329 hp and 354 lb-ft of torque. Mated to a seven speed automatic transmission and a fixed-split all-wheel-drive system  (45 percent front, 55 percent rear) called 4Matic, the Benz moves along fairly rapidly, The transmission is pretty smooth, (you can make manual shifts with paddles behind the steering wheel) and switching between modes we found the Sport setting to be perfect for everyday driving and Comfort if you happen to have your Mother in Law with you.
On The Road
The engine makes a pleasant sound even when pushed, a muted woosh, rather than a hooligan like bellow from say, an AMG Mercedes. Gaining speed is easy due to the very responsive throttle, there's none of that delay you get in a Turbo 4. Being heavier than the C300 it feels a little nose heavy with a reluctance to turn in,  but that doesn't prevent it from surging from zero to 60 in 5.1 seconds and through the 1/4 mile in 13.7.
The steering lacks feedback and doesn't communicate any road feel, but this is typical in almost all electric power assist systems. The rack's variable ratio tightens progressively as you add lock and overall is a much better system than on other models. Brakes are textbook Mercedes, firm, with strong initial bite at the top of the pedal travel.  The AirMatic air springs and computers work seemlessly in turns and on rough surfaces, and the car corners as flat as a pancake.
Interior
Open the door and it feels like a quality item. Our car was finished in Black MBtex, the only option unless you opt for the optional leather for $2300. Ouch! That said the interior is striking, comfortable and the gorgeous matte black ash wood veneers and brushed metals, are beautiful. The surfaces are very similar to those in the S-Class. The screen for the navigation system floats above the three center air vents, which is nice but it doesn't quite have the panache of the Audi system.
The steering wheel is relatively small in diameter, which is refreshing given the hula hoop sized wheels in the past. It is relatively thick-rimmed and as is the norm these days, flat on its bottom. We were not too keen on the transmission stalk behind the wheel….it feels cheap. We get why it's there, to make more space in the center but a well thought out rotary knob a la Jaguar would we more befitting.
The console has a track pad (which seemed over-complicated and fussy) and a rotary dial to control the Command interface. Options include upgraded sound system and  a $1,480 oversize Panorama sunroof, which we would skip in a heartbeat. Also available are Adaptive cruise control. Lane assist. Blind spot warning. Parking Assist, LED lighting, a power trunk lid and heated and cooled seats.
The power seats are Germanically firm, but hold you in place well. We always get caught out by the seats adjuster being on the door rather than on the seat, however it has 3 memory setting so initial adjustment should be a 1 time thing.
Conclusion
A quick glance at the new C-Class and you'll mistake it for a S-Class, the design is that similar. The C-Class feels cut from the same cloth as the E- and S-Class cars. This is a real Mercedes, over- engineered, slightly overpriced (if you go crazy checking the options boxes) and available now. What it isn't though is a Sports Sedan, instead it's a Luxury one. Driven at 10/10ths it's not at its best …….. Wafting along, however, it's brilliant.
Of course, the AMG C63 powered by a 503-horsepower 4-liter twin-turbo V8 will go on sale next year, for you power hungry buyers.
Gallery
[Best_Wordpress_Gallery id="9″ gal_title="2015 Mercedes C400″]
2015 Mercedes-Benz C400 Specifications
| | |
| --- | --- |
| VEHICLE TYPE: | 4-wheel-drive, 5-passenger, 4-door sedan |
| BASE PRICE: | $43,000 |
| AS TESTED PRICE: | $51,,350 |
| ENGINE: | Turbocharged and intercooled DOHC 24-valve 3.0-liter V-6 |
| POWER: | 329 hp |
| TORQUE: | 354 lb-ft |
| TRANSMISSION: | 7-speed automatic with manual shifting mode |
| CURB WEIGHT: | 3800 lb |
| 0 to 60 MPH: | 5.1 seconds |
| 0 to 100 MPH: | 13.7 seconds |
| STANDING ¼-mile: | 13.9 seconds |
| TOP SPEED | 130 mph |
| FUEL ECONOMY city/combined/highway | 21/24/29 |
2022 CT5 V BLACKWING – TESTED
2022 Lexus NX 450h+ – First Drive
2022 Audi A4 45 TFSI Review