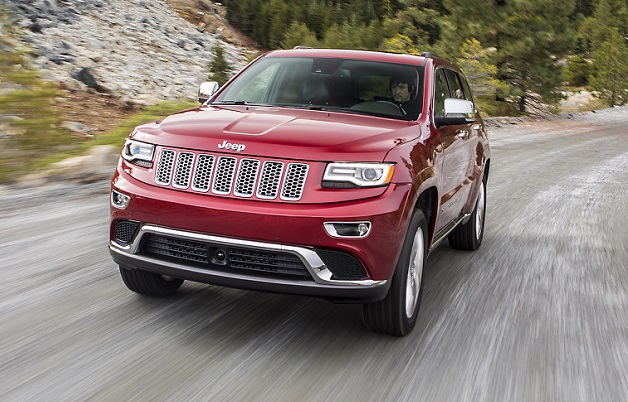 The model I drove for a week was the 2015 Grand Cherokee Ecodiesel Summit , which was absolutely loaded with goodies and had the much anticipated optional EcoDiesel engine. The 2015 Jeep Grand Cherokee EcoDiesel is very impressive and would be our choice of power, for 2 very important reasons, torque and fuel economy.
By a country mile the biggest advantage with the turbo-diesel V6 is the seemingly limitless supply of fuel in the tank.  I thought the gas fairy had sneaked into my garage and was topping up the tank every night. For the first time the free tank that came with the car lasted all week.
Oil Burning Pleasure
The Grand Cherokee's optional 3.0-liter EcoDiesel V-6 engine is a $5,000 option, which is a lot. What you get in exchange for the extra cash outlay 240 hp at 3,600 rpm and 420 lb.-ft. of torque at just 2,000 rpm. This huge torque number helps the Jeep tow up to achieve 7,400 lbs. The motor is supplied by Fiat subsidiary VM Motori.
It's a bit noisier at a cold idle than it's competition, but once warmed up, is pretty refined, and the noise levels inside the cabin are low. The ZF sourced eight-speed auto transmission is very smooth and works great with this motor's torque, making for very smooth progress.
Photography courtesy FCA Media, Jimmy Wu and Kenneth Willette
On-Road
Our car came with the optional air suspension which has several different ride heights available.
Off-Road 2 provides the maximum ride height of 2.6 extra inches (10.7 inches of ground clearance).
Off-Road 1 provides 1.3 extra inches (9.4 inches of clearance) for off-roading, but allows a bit more suspension comfort.  This position provides a good balance between ground clearance and ride comfort.
Normal is the standard ride height and is best for all-around driving conditions. It offers 8.1 inches of clearance and provides the most comfortable balance of ride and handling.
Aero lowers the vehicle just over a half inch and in this mode the Grand Cherokee does a very good impression of a car, with limited body roll. In fact on twisty roads you can hustle it and have some fun.
Park lowers the vehicle 1.5 inches below normal height to make entry/exit and loading/unloading easier.
We spent most of our time in Aero mode which keeps the Jeep hunkered down and will corner fairly flat if pushed hard. Once you're cruising, which is what the car does best on-road,  the tires and soft suspension absorb most bumps, holes, and irregularities in the pavement, making for impeccably smooth progress. This is a bonus considering most roads in the US are a crumbling mess.
The steering is a tad slow, and requires a few turns when parking , but this becomes a bonus when the terrain gets bumpy. Brakes are solid and fade free and provide decent emergency stops when needed. As with all turbocharged engines there is some lag when you initially step on it and it's best to keep the engine in the mid rev range to take advantage of the huge torque reserves. The gas pedal has a strong spring so you need to step on it away from lights, we think this may be a diesel saving measure.
Off-Road
We took a trip out to just North of Ramona on a truck trail that winds its way through Pamo valley. Within the San Dieguito River Park, Pamo Valley is owned by the City of San Diego Water Department. The east and west slopes of the valley are part of the Cleveland National Forest. There is a rough truck trail that heads up to the summit, or at least within a mile of it. It provides 3 miles of rough terrain ideally suited to the Jeep Grand Cherokee.
Once we found the trail we lifted the Quadra Air suspension to it's Offroad 2 position and set off only to realize that position 2 is for more serious off-road work as the car was bouncing around all over the place. We quickly reset it to Offroad 1 and things calmed down and the Jeep settled into the task of making its way up Black Mountain. It coped easily with the rutted trail and there were several section, a particularly steep slope that I had doubts about but it just went climbed right up. We simply couldn't find a trail difficult enough that day.
Inside
Our test vehicle was so loaded, a week really wasn't long enough to try everything, for example I didn't hop in the back and turn on the seat heaters, but I know I could have. In a giant nutshell our car had power, ventilated and heated front seats, a heated steering wheel, which came in handy on a trip to Mt Laguna where the temp had fallen to 27 f, chilly for California. Our car had the dark sienna brown leather seats and dash and side panels. It also came with 20 inch Satin Carbon Wheels and a large 8 gallon tank of urea to stay emissions compliant. Driver aids included, Blind Spot and Cross Path Detection, Parkview, Parksense Front and Rear and Forward Collision Warning with Stop which unnervingly applied the brakes for me when it thought I wasn't paying attention. I turned this off.
For driver enjoyment, Uconnect, an 8.4 inch Touchscreen, which was very easy to use and 19 (yes nineteen) Harmon Kardon speakers with a subwoofer.
Seats are very comfortable, if a little hard for longer journeys. Once seated everything in the Jeep's interior says first class, but on closer inspection there is some hard plastic around the center console. Most of our passengers were suitably impressed with the interior and the back seat adjusts for rake, which is a nice touch, as is the easy fold down action which neatly tucks in the headrest. It's the little things.
Verdict
Competitors in the this segment are sparse in this price range, the 2015 VW Touareg we tested a month ago comes close. The price of the Summit is high but other competitors include Porsche Cayenne Diesel, Benz ML350 Bluetec, BMW X5 xDrive35d, all of which cost thousands more. That said you can get the Limited trim with 4WD for around $44K.
We really didn't want to give the Jeep back when the week came to an end, it's a great all rounder and if you want to hit the mountain trails for some serious off-roading then this is the one to buy.
2015 Jeep Grand Cherokee EcoDiesel Specifications
| | |
| --- | --- |
| Base Price: | $51,995 |
| As Tested Price: | $59,480 |
| Engine: | DOHC 24-valve diesel V-6, iron block and aluminum heads, direct fuel injection |
| Displacement: | 2987 cc |
| Power: | 240 hp @ 3600 rpm |
| Torque: | 20 lb-ft @ 2000 rpm |
| Transmission: | 8-speed automatic with manual shifting mode |
| Zero to 60 mph: | 7.5 Sec |
| Cargo Capacity – 2nd Row Seat Folded | 68.3 ft3 |
| Cargo Capacity – Behind 2nd Row Seat | 36.3 ft3 |
| Curb weight | 4,995 lbs (Manufacturer) |
| Zero to 60 mph: | 7.5 Sec |
| EPA city/highway driving: | 22 mpg/30 mpg |