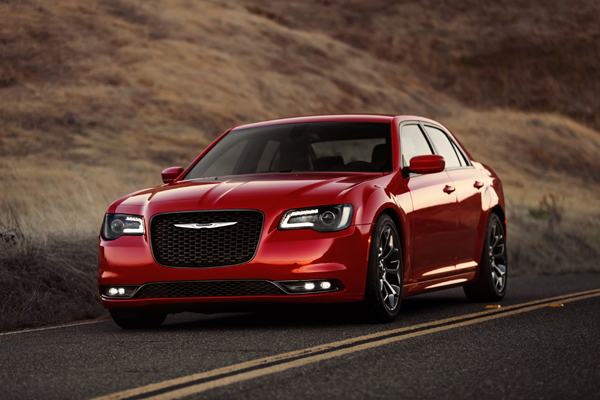 The 2015 Chrysler 300S is a big car, 4,000 lbs big to be exact and it has always moved down the road since its launch in 2005 with a swagger. True, its "Look at me I'm a Bentley" facade isn't for everyone, but you do get a lot of sheet metal for the money.  A couple of design tweaks to the exterior, including a new grille that trades the chromed slats of last year's model for a mesh treatment, all black on the 300S. Chrysler's winged logo has been relocated from the hood to a position within the upper portion of the grille. Bold and brash is back. 
It's  our first chance to drive the S version with the Pentastar V-6, good for 300 hp and 264 lb-ft on S models, just 8 hp and 4 lb feet more than the standard 300.  The S includes a sport-tuned suspension and an all-wheel drive option is available for $2500. All trims and specs use Chrysler's an eight-speed automatic transmission, which is a huge improvement over the old 5 speed, which hunted for the right ration and was jerky and dim. The 8 speed makes the Pentastar V-6 feel like a completely different engine. There are reports from Automotive News that Chrysler will add direct injection  and turbocharging to this engine in the near future.
Performance and Handling
Pulling out of the parking lot, the first thing you notice is how quiet and comfortable the 300S is. Of course, we immediately move the rotary shift dial, which replaced the old stick, into Sport Mode. Once on the move the 300S delivers decent performance, strong, willing but not exciting. That would be where the now defunct SRT8 would step in. We couldn't find fault the transmission, shifts are beautifully smooth, and it's very willing to kick down, especially in sport mode.
The sports suspension keeps thing taught and the car rolls very little and is pretty good at carving through corners. We wouldn't describe it as a sports sedan (leave that for the Hemi), but it serves its purpose well, being solid, comfortable and confident, and never a chore to drive. . The 300 is a bit heavier and a bit wider than its competitors, but it feels like a car in its very own segment, mainly due to being rear drive in a very front drive world. The Azera, the Toyota Avalon or the Ford Taurus are just a little bit boring in comparison.
Steering in the 300 is surprisingly good, offering a direct feel and good weight, feels smooth and comfortable, and is appropriate for a car of this size.
Despite its girth the 300S managed a sprint to sixty in 7 seconds. 
Interior
The new interior is a bit softer overall and the seats are big and comfortable with adequate lateral support, though they could get hard on a longer trip, for those with less natural padding.  There's the big 8.4-inch color display with Uconnect in the center of the dash and the 7-inch driver information display in the gauge cluster.
As we mentioned all 300 models get a rotary shift dial in place of last year's joystick gear lever. We guess the dial was chosen to save space or make more room but it seems the designers haven't really done that.
Fit-and-finish isn't perfect and the materials could be better, but these are nitpicks, after all, this is not a premium car. Instead it is a big, old school, rear wheel drive with a thoroughly modern interior and a pretty good motor.
Conclusion
I started out not liking the 300S but by the end I decided I did. Why? Well its so different to its competition, it stands out from the pack and in my humble opinion is a top contender in the full-size sedan segment………until, that is, someone handed us the keys to a 2014 300 SRT8……
Gallery
[Best_Wordpress_Gallery id="15″ gal_title="2015 Chrysler 300 S"]
2022 CT5 V BLACKWING – TESTED
2022 Lexus NX 450h+ – First Drive
2022 Audi A4 45 TFSI Review