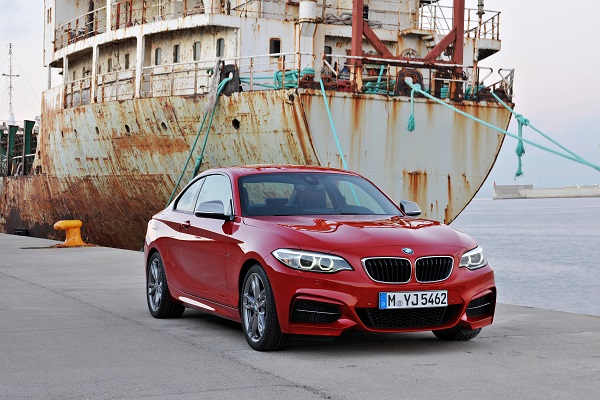 Short Take Test
We feel that BMW has lost the plot a bit with the 3 series, making it a little more bloated, less dynamic and in a bit of a mid life crisis, and then suddenly they offer us the 2015 BMW M235i, which is nothing short of magnificent. Don't get us wrong the 3 series is a fine piece of kit but dynamically we feel this 2 series is the best non M car that BMW makes.
Note this is not the rumored 375hp + M2 that may be revealed at the January 2015 Detroit show, but it is a very good alternative. It's the car that slots between regular cars and the M cars by giving it the M Performance Package.
Performance and Handling
Powering this Beemer is the silky smooth twin turbo 6 making 320 horsepower and 330 lb-ft of torque. Typically a fast-shifting eight-speed automatic with wheel-mounted paddles and a launch-control program is standard, although a six-speed manual can be swapped in at no cost, which is how our car arrived. True the auto is faster by a couple of tenths but we really wanted to see how this car performed by rowing your own. Man and machine in perfect harmony.
Unfortunately the old adage that buying a manual is cheaper saves you money, doesn't work here, BMW just call it a no cost option.
The physical satisfaction of the six-speeder is hard to deny and makes up for the loss of acceleration.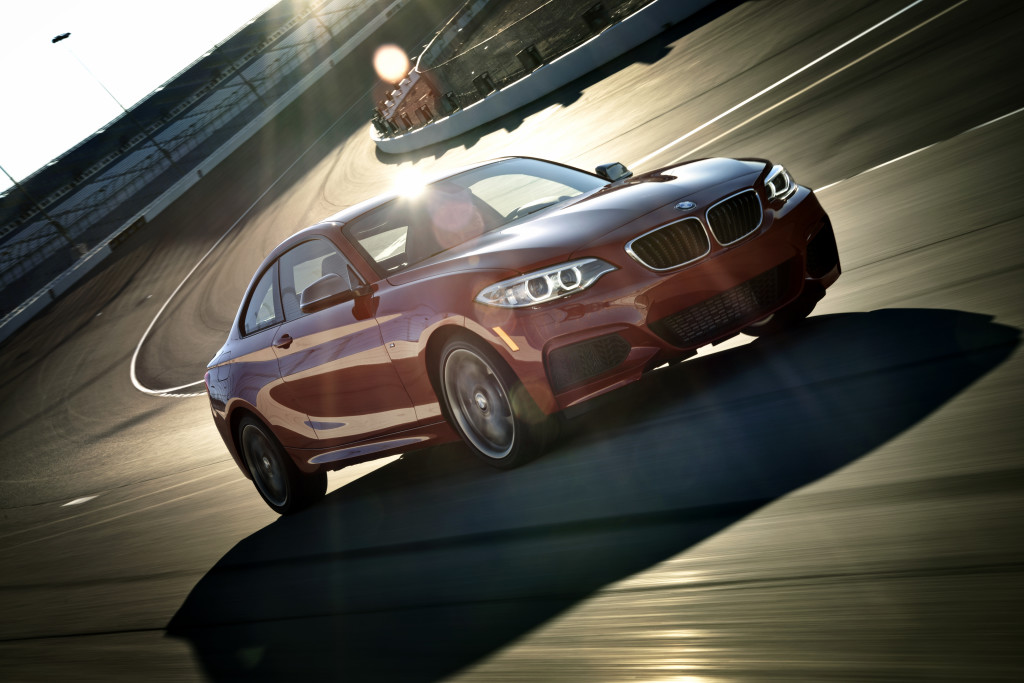 0-60 was dispatched in 4.8 seconds versus 4.6 for the auto. 
Off the line the clutch take up is very forgiving and the gear level has a satisfying click action, with a not too long throw. This car wants to be grabbed by the scruff of the neck, firstly by switching to Sport +, followed by a search for some twisty bits. Being compact and agile makes for very entertaining progress. Throw the M235i into a tight bend and it tucks in and charges hard. No fuss, no surprises and when the rear tires do let go, very controllable on opposite lock.
You can be a total hooligan in this thing.
Suspension is definitely firm without being uncomfortable in Sport mode. Bigger M Sport brakes using larger, 13.4-inch ventilated front rotors and four-piston fixed calipers, are standard and painted blue lest you forget. Stopping power is powerful and fade free.
The electric power-steering system communicates a lot more road feel than in the 4-series, which is an improvement over the latest 3-series. Even more impressive is the M235i's balance and poise. It always lets you know exactly how hard it can be pushed.
Interior
The cabin is beautifully finished with a smattering of "M" badges here and there.  Our test car had the carbon fiber door panels and trim and excellent standard seats with great support. There is definitely less luxury in here than in the more refined 435i coupe but we don't care. Space up front is fine, while the rear is cramped, but again we don't care because who wants passengers when you are being a hooligan. The BMW infotainment system with iDrive controller and a small 6.5-inch color screen are available.
This  car begs to be driven fast and if the M2 lives up to it's promise then we can;t wait.
Our car came in at $51,000, with several options like performance exhaust that we would check. Base cars start at $43K. If you like to drive and I  mean really drive then this car is for you.
2015 BMW M235i
VEHICLE TYPE: Front-engine, rear-wheel-drive, 4-passenger, 2-door coupe
BASE PRICE: $43,000
AS TESTED PRICE: $51,000
ENGINE TYPE: Twin turbo DOHC 24-valve inline-6, aluminum block and head, direct fuel injection
POWER: 320 hp @ 6000 rpm
TORQUE: 330 lb-ft @ 1300 rpm
TRANSMISSION: 6-speed manual
CURB WEIGHT: 3500-3550 lb
PERFORMANCE: Zero to 60 mph: 4.5-4.7 sec
FUEL ECONOMY: EPA city/highway: 19-22/28-32 mpg
2022 CT5 V BLACKWING – TESTED
2022 Lexus NX 450h+ – First Drive
2022 Audi A4 45 TFSI Review