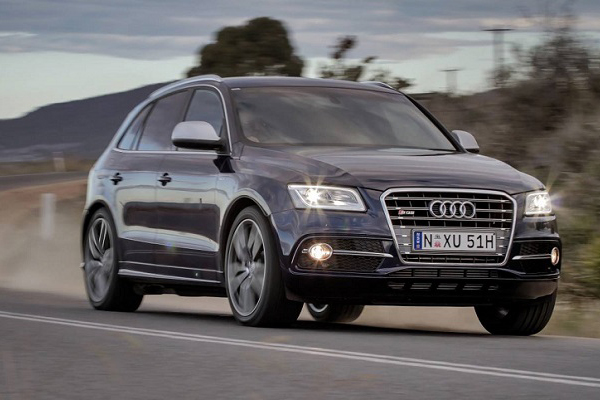 Wolf in Sheep's Clothing 
When our 2015 Audi SQ5 tester rolled into the office we couldn't really tell the difference between it and a standard Q5…..you have to look hard to find the quad exhaust pipes….. the SQ5 is something of a sleeper, in fact it could be one of our favorite cars.
In Europe Audi offers a twin-turbo 313-hp, 3.0-liter V-6 TDI, with 479 lb. ft.…..yes you read that right. Stateside we get the 333 hp supercharged 3.0-liter V6 from the Audi S4. In the SQ5, however, Audi has dialed-up the boost and bolted on a new intake and exhaust system to deliver 21 more horsepower and 22 more lb. ft. of torque. Weighing in at 4300+ lbs. we didn't expect the SQ5 to be as fast as it was. 0-60 is dispatched in a scant 4.7 seconds, that's as quick as the recent S3 tester we had. So what makes this thing so quick? Well, the V6 is mated to the ZF 8-speed automatic and not a version of one of the highly entertaining dual-clutch gearboxes. No matter, because Audi has breathed new life on the Tiptronic and  re-tuned it for crisper shifts and quicker downshifts.
Put the Drive Select in Individual and set all but the steering to Dynamic and the SQ5 is hugely fun. Downshifts are twin clutch fast, the exhaust makes a warp warp on upshifts (piped through the speakers, but who cares).  Downshifts are rev matched and the transmission will hold onto gears if it thinks you still need to go faster. Mash your foot back on the throttle and it's truly grin inducing. Add to that a sweet sounding engine and power delivery that is superbly linear.

Seeing as the SQ5 is an SUV, we needed to test that out. Sporting it is, and it is a vehicle, but does it have utility? To find out we decided to take a trip from San Diego, CA to Wofford Heights, CA. Think redwoods, Kern River and cabins, which is where we ended up staying.
We headed North on I15 and the SQ5 proves to be a relaxed cruiser despite being laden down with supplies for 2 days in a cabin in the woods. As we said before we kept the steering in Comfort mode seeing as Dynamic proved to be a tad heavy for our tastes. We have to say this is one of the best helms so far in an Audi. Normally steering in Comfort mode provides sloppy in direct inputs but this system simply works.
Until you hit the mostly 2 lane Highway 395 the trip is fairly boring…. once there you join one of the straightest roads, mile after mile without a curve. Luckily to avoid boredom and being stuck behind slower vehicles there are roller coaster like bumps and long broken lines to be able to pass. The SQ5 was easily able to pass 5 or 6 cars at a time on these sections.
Once off the 395 the roads get twistier and this is where the Audi comes alive and it feels smaller than it really is. In fact it feels like a hatchback, darting between corners, fast in and fast out, the suspension copes admirably with almost any road condition. Plow in too fast though and it will under-steer, but simply backing off the throttle pulls the nose back in line.
5 hours and 50 minutes later (thanks to appalling Riverside traffic) we arrived in the small mountain community of Alta Sierra, CA. The Little Red Lodge was our pit stop for the next 2 nights before we were due to head back to San Diego,  CA.  The cabin was great and we set to work getting a fire going….we had packed firewood into the Audi as local wood is expensive….thanks to Carl the owner for this advice.
Thanks to zero cell or internet service on the mountain we set about getting back to basics, making food, fire and talking.  The cabin was a great place to unwind and provided a great backdrop for some photos of the SQ5. If you are looking for a quiet retreat in the woods, this is a great place to be.
Back to reality now and the drive back. We certainly didn't want to go back the same way, so we drove back down the mountain and followed the Kern River to Bakersfield, CA. This is a great 4 lane highway with really fast sweepers, until you hit the twisty 2 lane section, so progress into Bakersfield proved slow.
We jumped on the 99 and this takes you to Interstate 5 and then the Grapevine, which takes you over the Tejon Pass and down into Los Angeles, CA. It's a long uphill section that goes on for ages, however, the fully loaded Audi (less the food we ate) surged up with no issue. It never seemed short on power at any time. A driver in a Maserati Quattroporte making fast progress was surprised by the Audi when we hit the gas and kept pace until he eventually backed off. 4 hours 35 minutes later we arrived back in San Diego.
Interior
The SQ5 comes with excellent and supportive front chairs and the Alcantara inserts keep you in place well. Sure this model is due for a refresh soon and it has the older dash similar to the S5, but these are small quibbles.
The back seats move fore and aft and also adjust for rake, so this allows you to extend the cargo space without lowering the rear seats. Build quality is typical Audi, exceptional and well thought out.
Conclusion
Although a tight squeeze for 2 adults, 2 big dogs, one small dog and food for 2 days, the SQ5 is  still pretty exceptional. Even fully laden it handles like a dream and the hair trigger throttle response will have you grinning from ear to ear. True it is getting ready for a refresh but against the competition, it can still hold it's own. You would have to fork out $20k more over the base SQ5 price for a Macan Turbo, which is only marginally faster and possibly smaller, certainly in the cargo area. We can;t wait for a new SQ5………
Gallery
[Best_Wordpress_Gallery id="34″ gal_title="2015 Audi SQ5″]
2015 Audi SQ5 Numbers
| | |
| --- | --- |
| BASE PRICE | $52,700 |
| PRICE AS TESTED | $59,525 |
| VEHICLE LAYOUT | Front-engine, AWD, 5-pass, 4-door SUV |
| ENGINE | 3.0L supercharged DOHC 24-valve V-6 |
| POWER | 354 hp |
| TORQUE | 346 lb ft |
| TRANSMISSION | 8-speed automatic |
| CURB WEIGHT (F/R DIST) | 4,373 lb |
| 0-60 MPH | 4.7 sec |
| QUARTER MILE | 13.1 sec |
| EPA CITY/HWY/COMB FUEL ECON | 17/24/19 mpg |
| OUR TEST MPG | 18.7 |
2021 Corvette Convertible Review
2021 Subaru WRX Series White