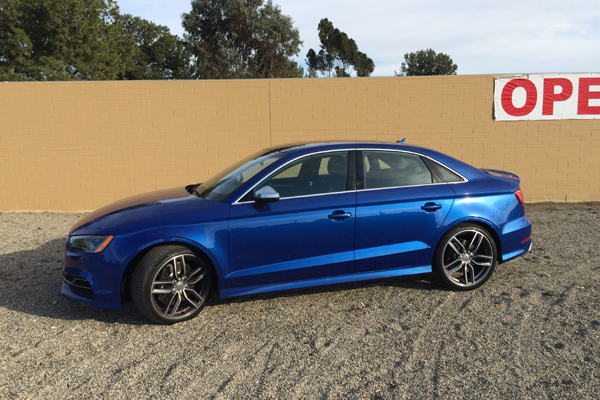 Our Week with the 2015 Audi S3
Our 2015 Audi S3 tester arrived with Blue Sepang Pearl Effect paint….. long name….. great color. We had been hoping it wouldn't be the same red as the A3 we tested a few months back and our wish came true.  This wasn't our first drive, however, we did have a chance to briefly drive the car a few months ago but this was a real chance to live with it as a daily driver.
Way back in 1978 my Dad bought his first Audi, a pale blue Audi 80 GLE with a 4 cylinder 109 hp engine. It weighed only 2050 lbs and was 172 inches long. Since then cars have been getting bigger, heavier and longer. The Audi A4 is now 185.1 inches long, 13 inches longer and of course much heavier. So it was a welcome relief that Audi decided to make the A3/S3 sedan, a car that is 175.9 inches long and a spiritual successor to the Audi 80.
Engine and Transmission
Audi's S models are not built to deliver the same performance levels as BMW's M or Mercedes-Benz's AMG cars…..that is the domain of the hardcore RS models. Instead the S fills a niche for the driver who wants performance, for a more modest price.
Believe me when I say the S3 has enough power. The trusty 2.0 turbo engine is used across a wide variety of models from the Golf GTi to the Seat Leon.  Audi engineers have breathed on this engine by adding pistons with new bolts and rings, stronger connecting rods, a new aluminum-silicon alloy cylinder head, new injection valves and a different turbocharger running 17.4 psi of boost. All this makes for 292 hp and 280 lb ft @ 1900 rpm.  To us it feels that the power numbers are low, knowing that Audi/VW are typically conservative …it probably has more than it says on the label.
Performance and Handling
The S3 has 4 Drive Select modes to choose from, Dynamic, Auto, Individual and Comfort. We kept it in Dynamic for most of the time with an occasional foray into Comfort. We found Dynamic to be perfect except for really uneven pavement, while Comfort softened up the steering a little too much. That said, performance is sensational with 0-60 coming up in 4.7 seconds using Launch Control. Simply turn off the traction control and mash your foot on the brake pedal while flooring the throttle. The engine spins and wavers between 3,000 and 4,000 rpm and then lift off the brake. A small chirp from the back tires launches you into oblivion. It's all very enjoyable.
The S3 is even better once on the move, if you ignore the lack of feedback from the steering, because this car grips like no other. Shod with summer tires on 19 inch rims it will enter a corner at life threatening speeds and  still have you come out breathing. Add too much speed and it will under steer, but come off the power and it pulls itself back in line. It doesn't quite have the poise and finesse of the M235i, but it doesn't need to. This car is not for sliding, it's for jumping on a twisty road and driving like there's no tomorrow. Give thanks here to the Performance Package which comes with Audi's magnetic ride. The system uses a liquid contained in the dampers that has magneto-rheological properties. Tiny magnetic particles are bound inside the basic oil which is used to fill the dampers.  The system adjusts the firmness of the dampers to the current driving situation within a fraction of a second. It works very well.
Our route took us from San Diego to the mountains in the East, on some fairly technical roads, with tight 90 degree turns and fast sweepers.  A couple of times we came across some slower traffic, so we hung back and stabbed at the throttle occasionally just for fun. The car simply surges forward and unless you are going at 15 mph or slower there is always instant pick up.
Having driven hard for a week we averaged 19.9 mpg, which is pretty good considering most people won't drive as hard all the time. Cruising on the highway you should expect 31 mpg.
Interior
The first thing you notice when you step inside the S3, is the lack of fuss and by that I mean a lack of switchgear. This is a good thing and not a measure of the quality of the interior. There are plenty of controls to play with and our car, a Prestige model had the MMI Navigation Plus with voice control. Interior quality is what you would expect….brilliant….and still shows everyone else how it should be done.
Seats are pretty good with full electric adjustment for both driver and passenger. We prefer the seats in the S5, simply for the Alcantara inserts, they are just grippier. A tad more lateral support would also be nice given the car's cornering abilities, but we are nitpicking, it truly is a nice place to be.
Verdict
This car is a true joy to drive, yes it has a few niggles…… some testers complained there is a delay in pick up off the line, and the cup holders are too small. Some people say you shouldn't drink coffee and drive, we say you can, but choose a smaller container.
I am going to contradict myself and say that if more power were available, we would welcome it. The S3 certainly has plenty in reserve to produce serotonin induced grins….but we can't help thinking, what if there was an R sedan version ……….?
So Audi, pretty please, with sugar on top,  give us an RS3.
Gallery

[Best_Wordpress_Gallery id="26″ gal_title="2015 Audi S3″]
2016 Audi S3 Quattro Numbers
| | |
| --- | --- |
| Base Price | $41,100 |
| Price As Tested | $49,945 |
| Drivetrain | Front-engine, AWD |
| Engine | 2.0L turbocharged DOHC I-4 |
| Power | 292 hp |
| Torque | 280 lb-ft of torque |
| Transmission | 6-speed twin-clutch |
| Curb Weight | 3450 lb |
| 0-60 MPH | 4.7 |
| 1/4 Mile | 13.4 secs |
| EPA city/hwy fuel econ | 23/31/26 |
| Observed Fuel Economy | 19.9 mpg |