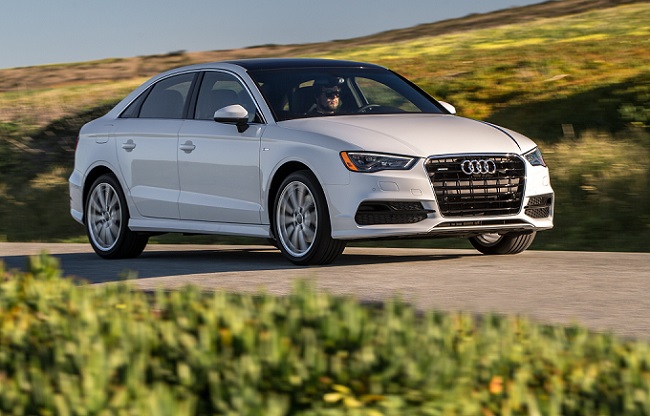 The German luxury marques have been slowly encroaching on the compact sedan market in Europe for some time and are making good headway. Here in the US the A3 hatchback was not so much of a success, so it's a sedan only for now for the hatchophobic Americans.
We tested the 2015 A3 Quattro a few weeks ago and came away suitably impressed with it's grip and power, so when our 2015 Audi A3 1.8t arrived we were keen to see if it felt down on power. I owned a an A3 hatch a few years ago and always wished it had all wheel drive, as on anything other than dry pavement the front wheels were continuously scrabbling for grip. Maybe it was my driving……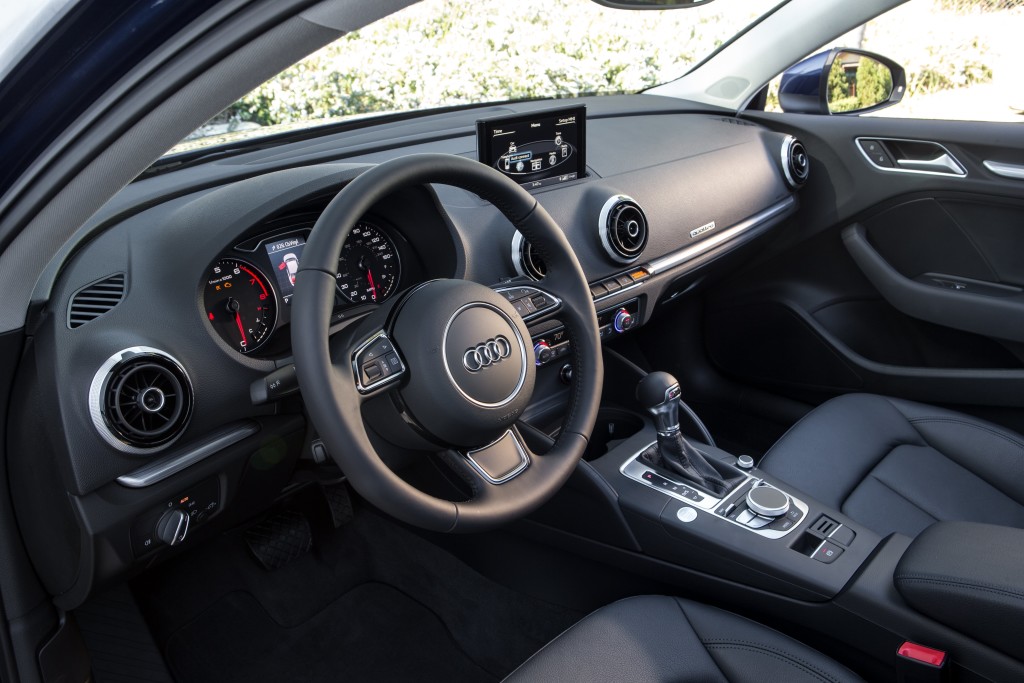 Engine and Transmission
Powered by VW Group's new 1.8-liter turbocharged 4 cylinder, it's available only as a front-drive-only. It produces 170 hp and 200 lb-ft of torque, and is mated to a six-speed dual-clutch automatic. No paddle shifters are available, instead you can slot the lever over to your right and shift manually. Sport mode re maps the shifts and holds you in gear longer but doesn't really produce much more acceleration.
Getting the front drive A3 off the line is tricky….there is launch control……..we tried various different methods and the best we could muster was a 0-60 time of 7.01 seconds.Launch control produce copious wheel-spin and wheel tug before finally gripping. Just stomping on the gas had a similar effect but the transmission bogs down a bit before setting off. We settled for a light right foot in launch mode and  lighter 1.8 t is definitely no slouch.
Handling
One of the things you notice about this car over the Quattro is how light it feels, which is no surprise considering it weighs 200 pounds less than the A3 Quattro. The steering gives you more feedback and as a whole we didn't find the A3 1.8T noticeably slower once on the move. In fact, it was fun on some of the twistier back roads we took it on.
Road Trip
We took a last minute decision to take the A3 on a trip top Borrego Springs, CA, a small desert town on the edge of the Anzo-Borrego desert. The route took us out East on Interstate 8 and then over the mountains on Sunrise Highway. This section proved every bit as enjoyable as when we drove this same section with the Quattro. The A3 carves through the turns with ease and the available 200 ft – lbs of torque means you have power to spare most of the time. Only when passing slower vehicles did we wish for more power. Under-steer has virtually been eliminated and the car coped very well in the very tight turns we encountered heading down form the mountains to the desert, an elevation drop of some 5,000ft.
As we dropped down into the desert things started to heat up and by the time we arrived in Borrego it was 110 f, quite hot. Time for a pit stop at Carlee's a traditional bar serving traditional American food.
With the a/c set to 70 f the Audi did a great job of keeping us cool in the stifling heat. We took the desert road S2 which makes its way South to the I8. It's a terrific piece of road with mostly broken lines, little traffic, tight turns, sweeping bends and long straight sections. It's a fast piece of road and one of our favorites because its a great test for most cars. The little A3 did very well and was thoroughly enjoyable throughout. Once we reached the Freeway we filled up and noted that we had averaged 25 mpg on this trip. Not bad at all.
Interior
As we have said before Audi does make some of the best interiors, this one being no exception. We still love the Bauhaus inspired interior, the minimalist controls and the pop up screen. Seats are excellent although the sports chairs in the Quattro are more supportive. Our tester came with the MMI Navigation  Plus package that includes voice control, MMI touch and Audi Connect. As a Premium plus model we got the 18 inch 10 spoke wheels and all season tires. We would option summer tires for Southern Ca as we rarely get rain.
Verdict
Audi seems to be taking this segment seriously and I am seeing a fair few A3's on the road. Our testers as tested price was $36,645 and at that price point, you're right in the thick of well-optioned standard sedans like Camry, Accord and Altima. Of course if you buy one of those other cars you will be missing out on a fantastic interior of course 4 rings on the hood.