Road Test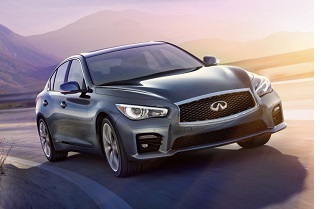 Published on September 13th, 2013 | by Nigel Atkinson
0
2014 Infiniti Q50S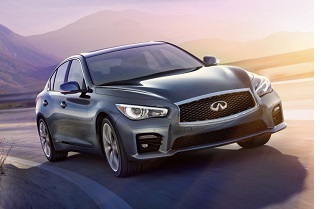 What's Good
Great looking
Nice interior
Smooth ride
What's Not Good
Engine lacks torque
Too much technology
Lazy throttle
2014 Infiniti Q50S- Road Test Review score: 5 out of 10
Thanks to Kearny Mesa Infiniti
The 2014 Infiniti Q50S is a big deal for Infiniti as it's the replacement for the popular G37, which will still be sold alongside the Q50 for a couple more years. Interesting. The car sits on the same  drivetrain as the G37 and has a reworked rear suspension and new body design…..which we like a lot.
What we didn't like is the sheer amount of technology that Infiniti is offering in various packages…..most of it is irritating especially due to the plethora of warning beeps and lights that come with it.
Here's what they offer:
Infiniti Drive Mode Selector, Active Noise Control, Blind Spot Warning (BSW), Blind Spot Intervention® (BSI), Eco Pedal, Active Trace Control, Infiniti Hard Drive Navigation System, Bose® Studio Surround® premium audio system, Intelligent Cruise Control (Full-Speed Range), Lane Departure Warning (LDW) and Lane Departure Prevention (LDP) systems, Distance Control Assist (DCA), Intelligent Brake Assist (IBA) with Forward Collision Warning (FCW) and Front Pre-Crash Seat Belts and Direct Adaptive Steering, a full steer-by-wire system. More on this later.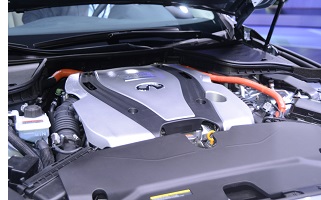 We drove the 2014 Infiniti Q50S which is the sport model which adds •19-inch alloy wheels •Sport brakes •Sport seats •10-way power driver's seat •Sport-tuned suspension •Unique sport front bumper •Solid-magnesium paddle shifters.
The 3.7L makes 328-hp and a rather low 269-lb-ft  from it's DOHC 24-valve V-6 via a 7 speed automatic transmission.
Expect 0-60 to take 5.2 seconds and the quarter mile in 13.8 sec @ 102.1 mph. Not much different to the outgoing G37. The problem with this engine is the noise it makes. It sounds boring and sanitized from inside the cabin. Secondly its not that fast off the line, the throttle feels lazy and it takes a few seconds to get going. The transmission also feels lazy and they should have used a twin clutch system.
Handling is good but they should have spent their money on a high tech suspension system instead of drive by wire steering. It tends to float too much and doesn't feel like a sports suspension. That said this is the best sedan Infiniti has built, it just needs some help in a few areas.
Back to the Direct Adaptive Steering which works by electronically transferring the driver's input to the front wheels where a high-response actuator drives the steering rack. By eliminating the mechanical losses that can dull the responses in conventional systems, steering response is faster and vibration at the steering wheel is eliminated.
We thought it was pretty good except we don't know why you would need this. After all what is wrong with conventional steering?
A soup spoon is designed perfectly for eating soup  so why re-invent it.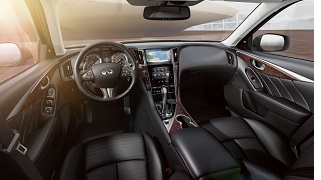 Inside you get all the usual bells and whistles including 2 screens (don't know why). This would surely be more of a driver distraction than anything else. Seats are supportive but could use more lateral support and better quality cow please.
Why are Japanese cars still fitted with inferior quality leather?
Overall this is a pretty good car but Infiniti has another car that is way better than this one…………..the Q50S Hybrid……stay tuned because this one is a lot more fun.
What would we do?
This car suffers from technology overload and not enough driving enjoyment. We would get a Q50S hybrid which is much more enjoyable…..or take a close look at the Lexus IS F Sport 350….which we will be doing soon.
Please follow and like us: