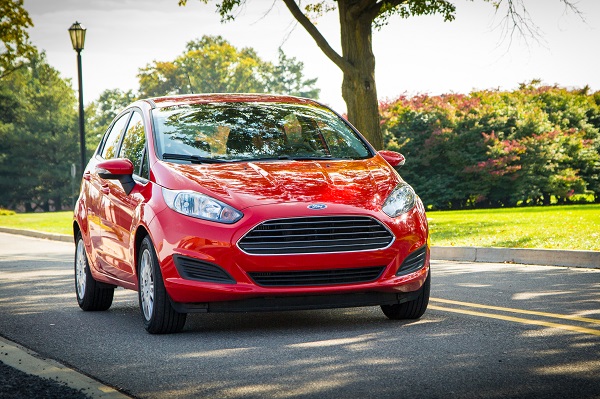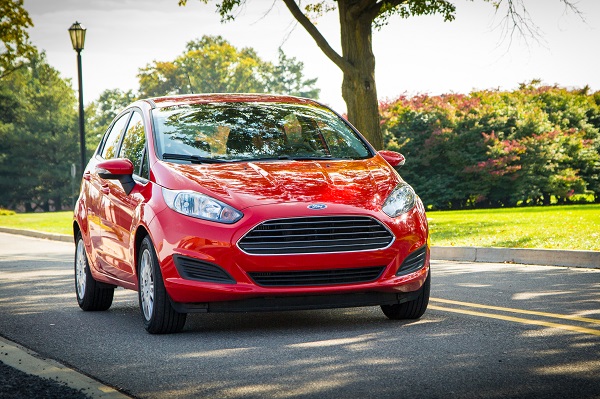 Back in 1975 VW launched the remarkable Golf GTi which had 110 hp and went from 0-60 in around 9 seconds. It was fast, easy  to drive and fun. Enter the 2014 Ford Fiesta 1.0L  Ecoboost with a remarkably small 3 cylinder engine. Say that to an engineer 39 years ago and they would have though you had lost your marbles.
3 cylinder engines have not fared well Stateside in applications in the 80's and 90's but in this case prepare yourself to be pleasantly surprised. In this form the little engine puts out 123 hp and 125lb-ft @ a staggeringly low 1400 rpm. Mash the throttle, and the little engine calls up a total of 148 pound-feet of torque, thanks to an overboost function. Why would you buy the 1.6 when all it can muster is 20 hp and 112 lb-ft of torque…….
Performance
The Fiesta fizzed from 0-60 in of 8.5 seconds and passed the quarter mile in a respectable 16.8 seconds @84 mph. The result of this grunt and the excellent manual transmission is a whole lot of fun. It pulls with like a diesel, regardless of gear or engine speed, and had little difficulty when it came to on-ramps or highway merging, where power is most likely to be needed. The only time it bogged down was in 5th gear when traveling at very low speeds.
The little Ford hangs on well in the bends and was easy to drive quickly on the twisty bits East of San Diego on Sunrise Highway. Only in very tight bends does the car feel a little off balance thanks to the smaller tires.  The ride is very smooth for a small car though and passengers shouldn't get tossed around too much during spirited driving.
Noise is well muted with the engine itself making a buzzy sound at higher revs and quieting down at freeway speeds. The EcoBoost Fiesta has some pretty impressive EPA fuel-economy ratings—32 mpg city and 45 mpg highway, beating out all non hybrids.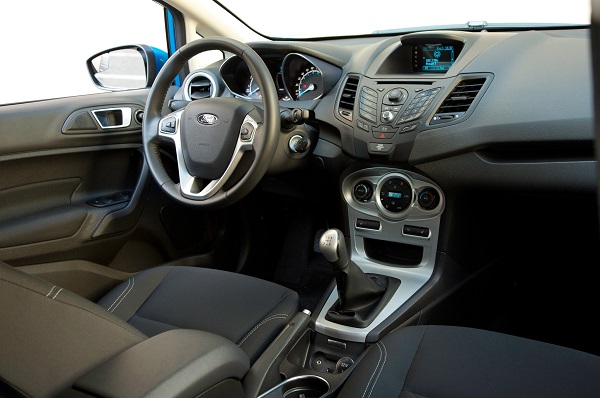 Interior
Inside is typical Fiesta, which although it's genuinely cheap, is well designed and comfortable and capable of making the driver feel like they're in something special and fun. From a materials standpoint, the interior is better than most other cars in the class. There are a lot of soft-touch surfaces for a B-segment entry, and the heated cloth seats are a bonus. The center stack with its cell phone-inspired layout is busy and confusing and needs a redesign.
If you're in the market for a subcompact hatchback or sedan that sips fuel but is still offers brisk acceleration and doesn't break the bank, the Fiesta SFE a good place to start.
2014 Ford Fiesta 1.0 Ecoboost
| | |
| --- | --- |
| BASE PRICE | $17,400 |
| PRICE AS TESTED | $17,690 |
| VEHICLE LAYOUT | Front-engine, FWD, 5-pass, 4-door sedan |
| ENGINE | 1.0L/123-hp/125-lb-ft* turbo DOHC 12-valve I-3 |
| TRANSMISSION | 5-speed manual |
| CURB WEIGHT (F/R DIST) | 2615 lb |
| 0-60 MPH | 8.5 sec |
| QUARTER MILE | 16.8 sec @ 84.0 mph |
| EPA CITY/HWY/COMB FUEL ECON | 32/45/37 mpg |
2022 CT5 V BLACKWING – TESTED
2022 Lexus NX 450h+ – First Drive
2022 Audi A4 45 TFSI Review