Road Test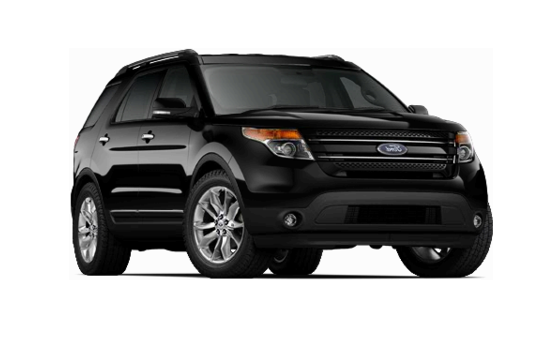 Published on November 10th, 2013 | by Nigel Atkinson
0
2014 Ford Explorer Limited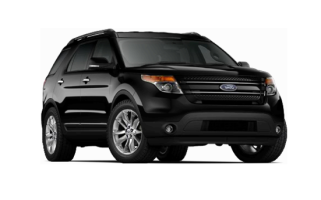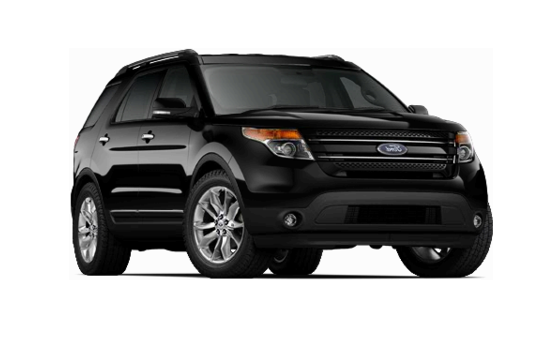 What's Good
Nice Interior
Powered 3rd row seats
Perfect for soccer practice

What's Not Good
Feels big
Needs more torque
Access to 3rd row
2014 Ford Explorer Limited:  7 out of 10  
"Room for the soccer team"
Our 2014 Ford Explorer Limited 4WD now has the bigger brakes from the Sport model, which is a good thing because this car feels big and is big. Hustling along back roads, mountain passes and off road is not what this car is meant for. Packing many kids and driving to soccer practice is more its speed and we think it does that quite well.
Our Limited came with the quite expensive Equipment Group 302A. The package includes voice-activated navigation, power-folding third-row seats, power liftgate, the aforementioned steering wheel, inflatable rear seatbelts, blind spot monitoring, active park assist, adaptive cruise control, lane keeping assist, HID headlights, and rain-sensing wipers.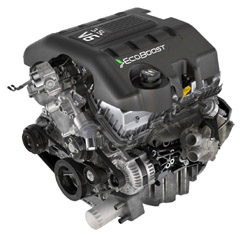 The Limited comes with the 290-hp, 3.5-liter V-6 which is powerful enough if a little short on torque at 255 lb ft. Not that it matters too much, as few customers shopping for a midsize three-row SUV are likely to be itching for stoplight drag races. Most are concerned about he safety and comfort of their kids and their neighbors kids. For those who do, Ford does offer the 2014 Explorer Sport, which has the 350+hp EcoBoost 3.5-liter V-6 from the Taurus SHO under the hood. We like. The boosted powertrain shaves two seconds off the 0-60 sprint.
The Explorer rides well on the freeway and only when pushed from a stop light does the V6 sound strained. Brakes are very good. We added some twisty stuff on our test and the big Ford is quite composed in tight corners…… in fact it did better than the Fusion Energi we drove earlier. Body roll is minimal and for a big car the ride is superb, smoothing out even the harshest surfaces. The steering is neither good nor bad and does provide some feedback. In this class it is unusual to find a car that isn't a complete pudding.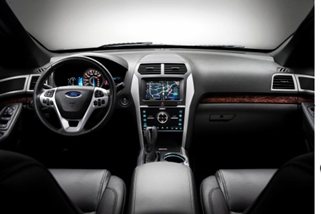 The kids are going to love the inside, which is good because space is tight for the adults, (unless you are under 5 feet) especially in the 3rd row. Accessing this 3rd row requires Cirque Du Soleil levels of flexibility and once in you're trapped. Seats are very comfortable with seat height adjustment for the passenger…….something that is often forgotten on other cars.
With soft touch plastics and an overall quality feel inside the cabin we think Ford has done a great job with this car. There are cup holders and storage bins and we especially love the power 3rd row seating. In fact we stopped for a few minutes and kept pressing the button to watch the seats rise gracefully out of their storage bay to their final position. Then we pressed it again and watched them sink back down leaving the trunk floor flat. Ahhhh.
However, we were not enamored with the touch-screen operation of the entertainment, navigation, heating and air-conditioning controls, which is a fiddly process and forces drivers to take their eyes off the road.
Since dropping the ancient body on frame a few years ago and making this a tall riding car Ford has created a practical, luxurious, and reasonably spacious vehicle for the growing soccer family and now it makes a whole lot more sense than its predecessors.
What would we do?
Knowing our proclivity for speed and power, we would opt for the Sport with the 3.5L Ecoboost turbo engine from the Taurus SHO, which puts out 350 HP. For most others the V6 or Ecoboost 4 will suffice to haul around the soccer squad.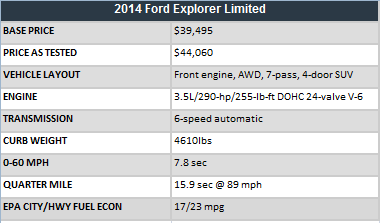 Please follow and like us: