Road Test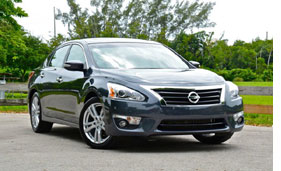 Published on November 22nd, 2012 | by Nigel Atkinson
0
2013 Nissan Altima V6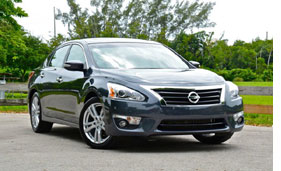 What's Good
Nice interior
Excellent V6 Engine
Near perfect front seats
What's Not Good
Terrible steering
Chronic understeer
Road Test Reviews score: 7 out of 10
Dealer Experience – Pacific Nissan  7 out of 10


Thanks to Pacific Nissan for letting us drive the 2013 Nissan Altima V6
The 2013 Nissan Altima V6 falls into the category of the Family Car but what exactly is a Family Car? I would have thought that all 4 door cars fall into this category as a family should be able to get into them. Not so apparently. A Family Car is not a Sports Sedan, and neither is it an SUV. I find it slightly demeaning to buyers that they shove the Honda Accord, Toyota Camry and the Nissan Altima into this category. Just because you have a family (which we all do) why should you have to make do with a certain segment of cars.
Car manufacturers seem to like to put us into segments so they can build cars around what they think we should buy. This is exactly what they have done with the new 2013 Nissan Altima V6 and it's a shame because it could be brilliant.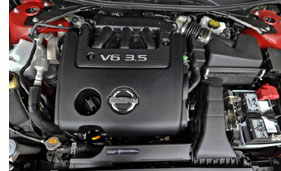 The new body is actually quite nice. Over the years Nissan have put their cars on a diet and slowly removed the large backside of the older models. This car weighs 80lbs less than the outgoing model, which explains why it is quicker as well. Under the hood nothing is changed, the 270-hp 3.5-liter V6 engine will get the car from 0-60 in a fleet 6.1 seconds and the quarter-mile in 14.6 seconds at 100 mph.
This is faster than any of it's competitors can manage.
Once behind the wheel, in the excellent seats, the car is very pleasant to drive and the CVT transmission is about as smooth as it gets. One complaint, I like to feel gear shifts and this is so smooth you feel nothing, which I am sure some people might like. This car needs a twin clutch to make it even quicker and at the same time more economical. It is not as soulless as the Honda Accord but it is missing that special component. This leads me to the steering and handling.
Pitch the car into a tight corner and the front digs in well but if the corner tightens the car goes into a scrabbling understeer, which is not helped by steering with no feel at all. It feels numb and lifeless and it doesn't have to be this way.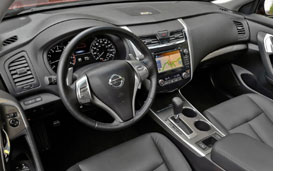 Inside the Nissan is very impressive with soft feel plastics, excellently supportive seats (designed by NASA) and nicely laid out controls. It's so much nicer inside than the 2013 Honda Accord V6 we tested a couple of weeks ago. The people over at Infiniti must be a bit worried as you can't get a much better interior this side of an Audi.
Power drivers seats, a cracking infotainment system, NissanConnect for the driver to  process and interact with Pandora, text messages, Bluetooth, satellite radio is all standard.
On the negative side economy is average which makes you wonder why Nissan hasn't opted to turbocharge the 4 cylinder yet.  But these are just small niggles and we suggest you pop down to you local dealership and drive one.
What would we do?
Fix the steering, make it rear wheel drive, pop in a twin clutch transmisison and call it a Sports Family Sedan because I am sure there are some family car drivers out there who still have a pulse. It would give BMW 3 series a run for it's money, cost less and would be brilliant!
Please follow and like us: